2018 VW Atlas Review, Images, Price, Interior, and Specs
The all-new 2018 VW Atlas midsize SUV is here. Checkout the 2018 VW Atlas review, images, price, specifications, mileage, features and other details. More Volkswagen SUV images at izmostock.com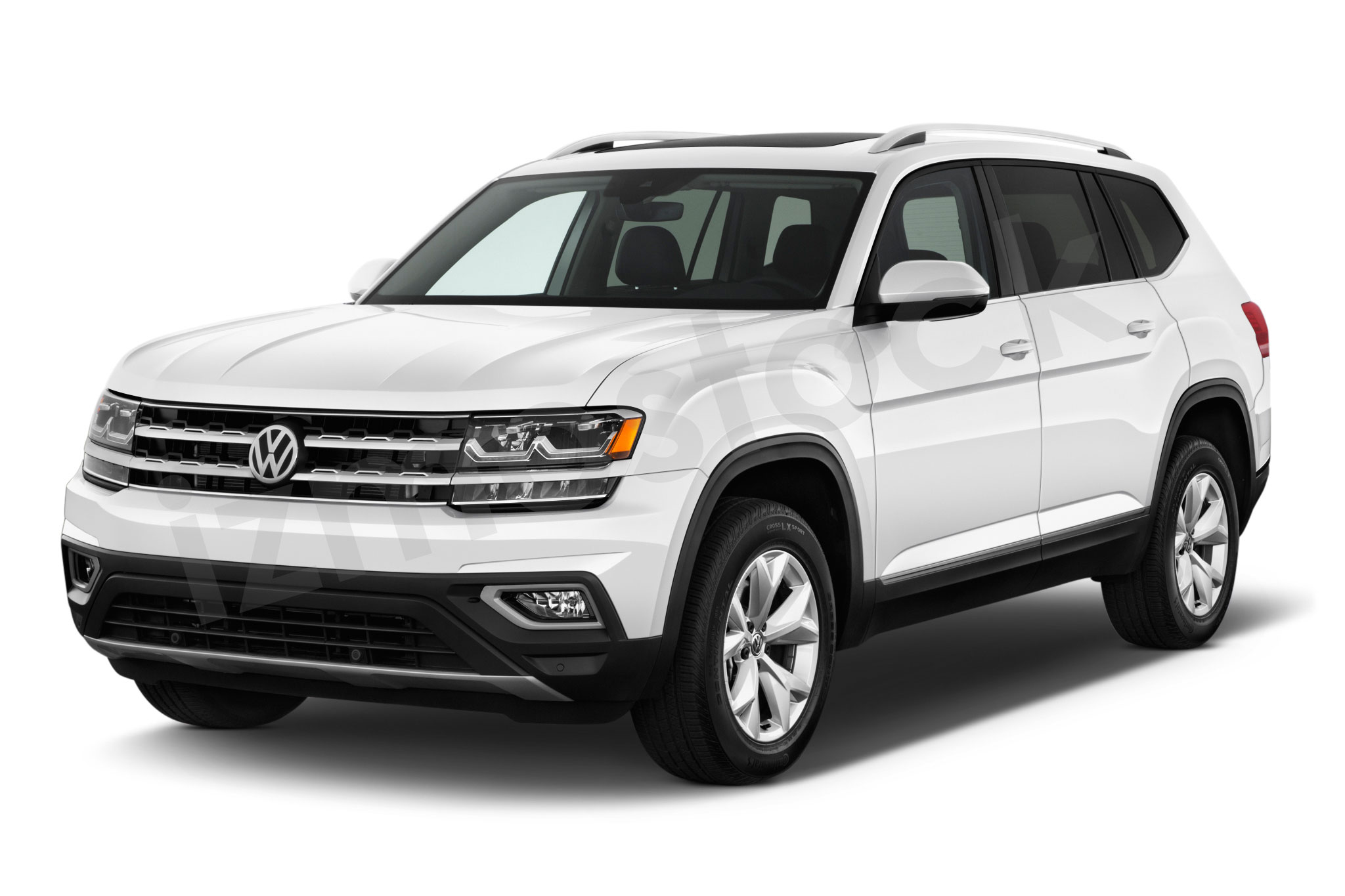 The 2018 VW Atlas: For more Volkswagen SUV images, Click Here
Bringing an all-new three-row SUV to the Volkswagen SUV lineup, the 2018 VW Atlas can surprisingly fit up to seven passengers. Utilizing the same flexible architecture from the VW Golf, this is the first time in a while that a Volkswagen SUV that can seat more than five is hitting the market.

The 2018 VW Atlas comes with a generous list of standard features. The panoramic sunroof that stands out at first glance itself is a standard feature, and so are18-inch wheels, LED headlights, daytime running lights, a 6.5 inch touch screen, voice recognition, Apple CarPlay and Android Auto.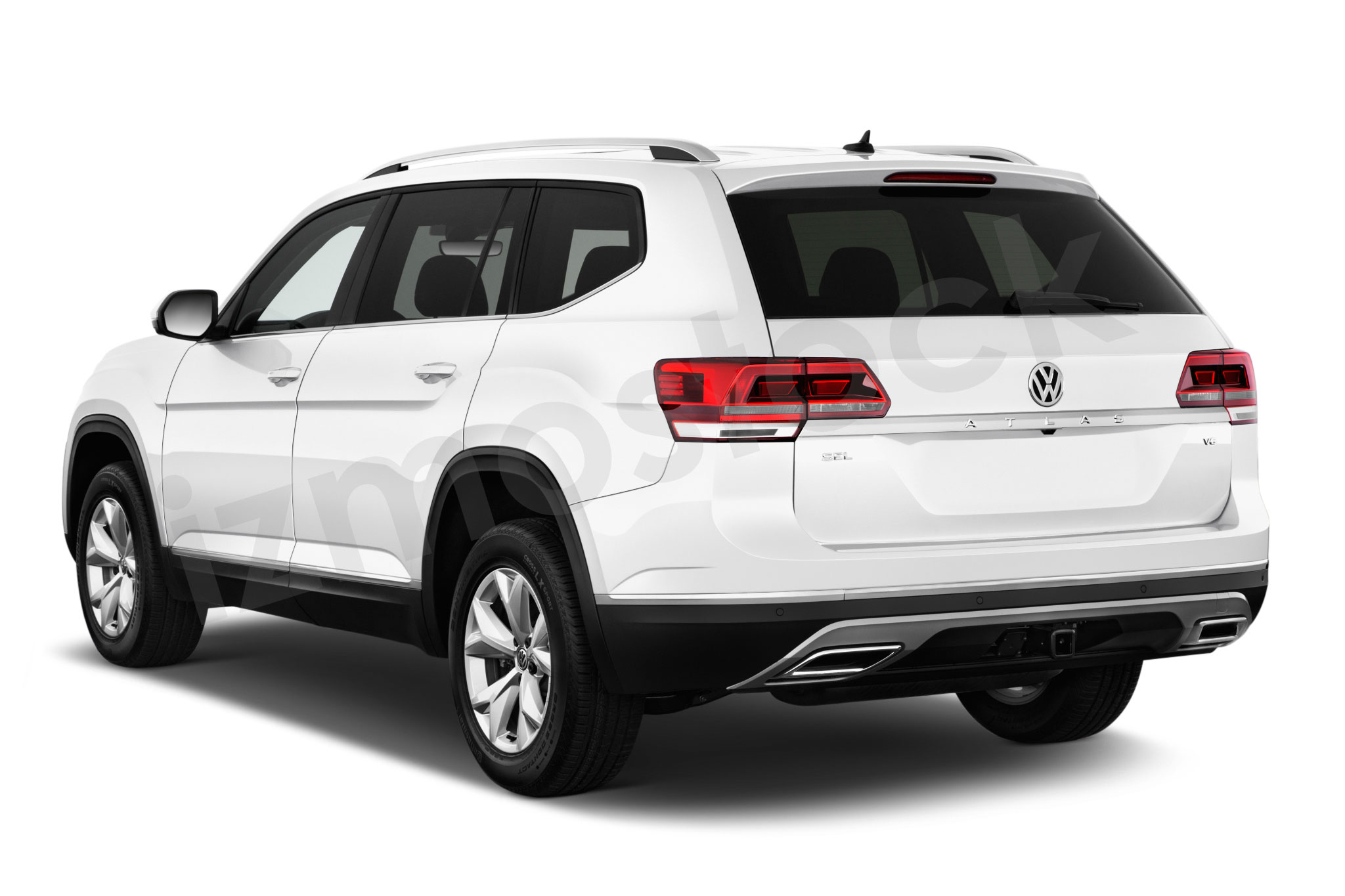 The 2018 VW Atlas Picture Gallery: For more Volkswagen SUV Photos, Click Here
At first Glance the VW Atlas looks similar from a distance to The Land Rover and Range Rover. The Atlas also seems to share a little of Ford Explorer design elements. This Volkswagen SUV takes on a broad stance with wide fenders, giving it a masculine look.
Up front there is a large, wide grille that extends into the design and shapes of the headlights. There is a distinctive line notable that runs from the headlight up and over the front fenders that give off and accentuate its girth.
The 2018 VW Atlas comes with a simplified rear end design, but with a touch of chrome trim that extends between both taillights.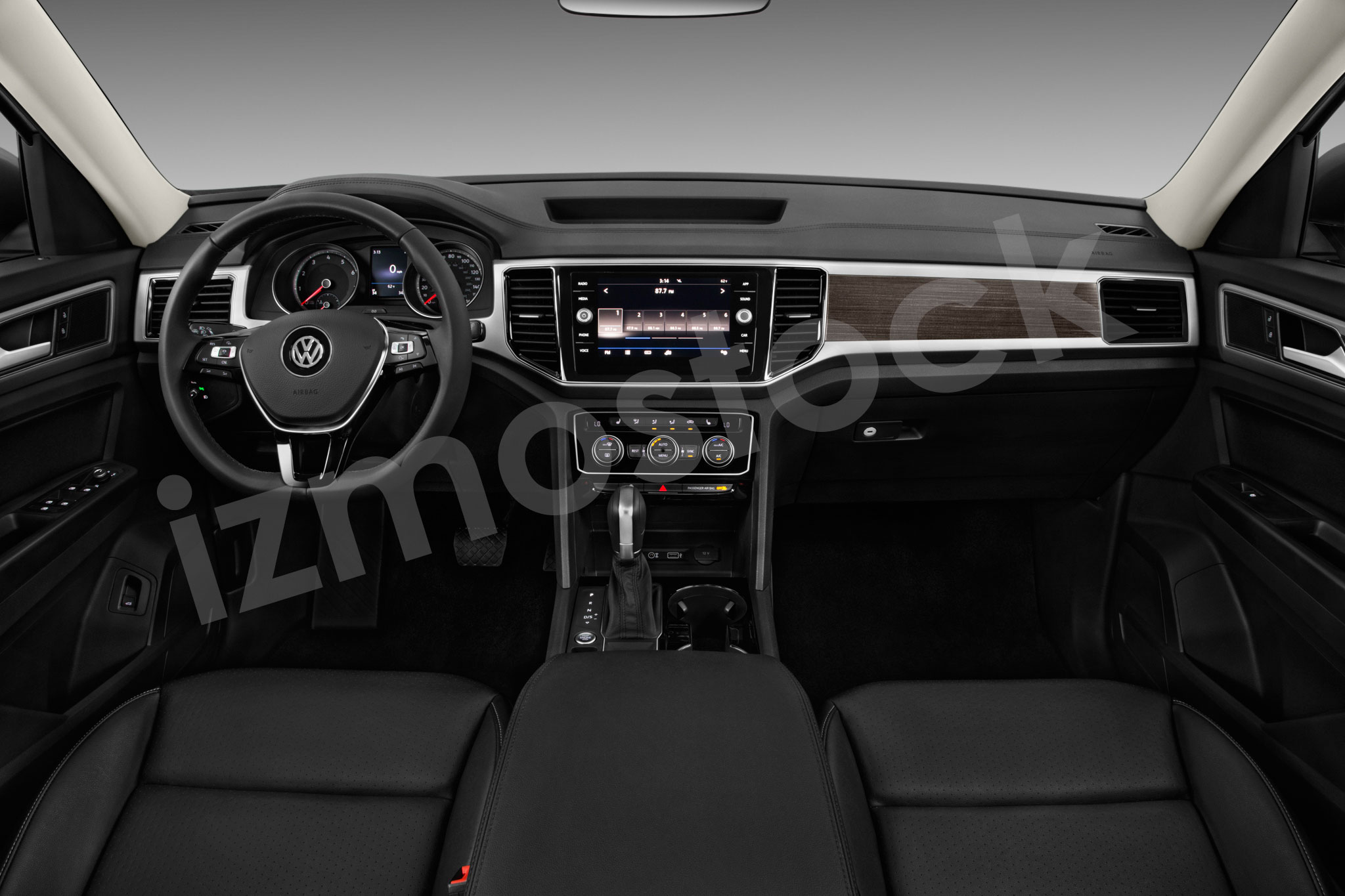 The 2018 VW Atlas Interior Picture Gallery: For more Volkswagen SUV Photos, Click Here
A Panoramic Sunroof
The panoramic sunroof which runs almost the length of all three rows, lets in the outdoors and makes a huge refreshing difference during long drives. Just opening it up gives the occupants a convertible feeling.
This Volkswagen SUV offers 96.8 cubic feet of cargo space, with the second and third rows folded down.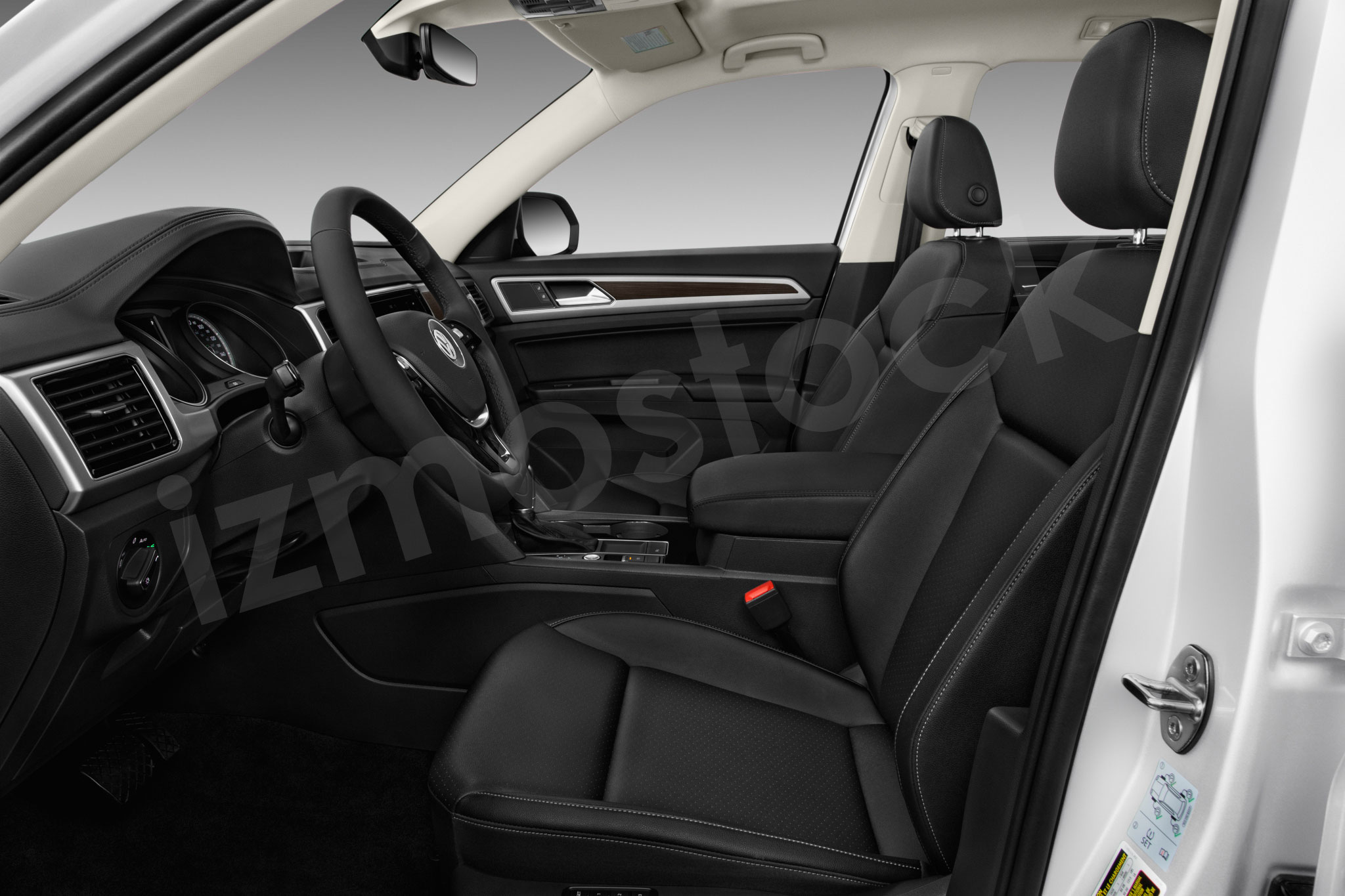 The 2018 VW Atlas Driver's Seat: For more Volkswagen SUV Images, Click Here
Seats and Ride
The 2018 VW Atlas offers a quiet ride, even at highway speeds. The ride quality is excellent, and this Volkswagen SUV offers good cornering grip too.
Thankfully, accessing the rear seats is rather easy, with middle row seating that slides and tilts forward.
Need leather trim seats? Only the highest trim level which is the SEL Premium, offers that.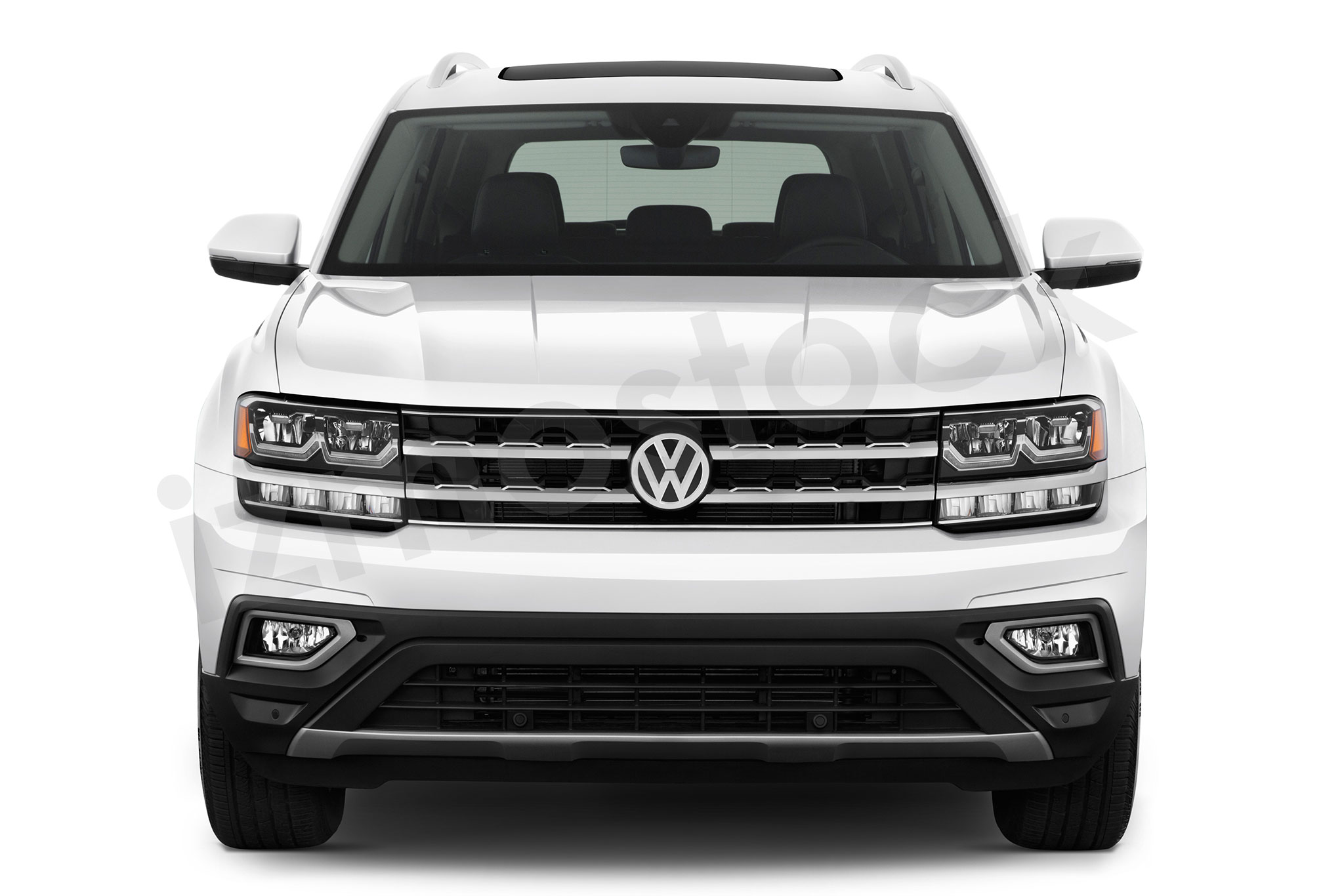 The 2018 VW Atlas Front View: For more Volkswagen SUV Photos, Click Here
2018 VW Atlas Safety Features
There are seven stability-enhancing systems to help drivers maintain control of the 2018 VW Atlas. This includes Electronic Brake-pressure Distribution (EBD), which helps maintain stopping power during hard-braking, and Electronic Stability Control (ESC), which adjusts engine throttle and stabilizes the wheels.
This Volkswagen SUV faces tough competition in the crowded midsize three-row, seven-seat SUV segment, with the likes of the Ford Explorer, Honda Pilot, Toyota Highlander, and Mazda CX-9 competing for market share.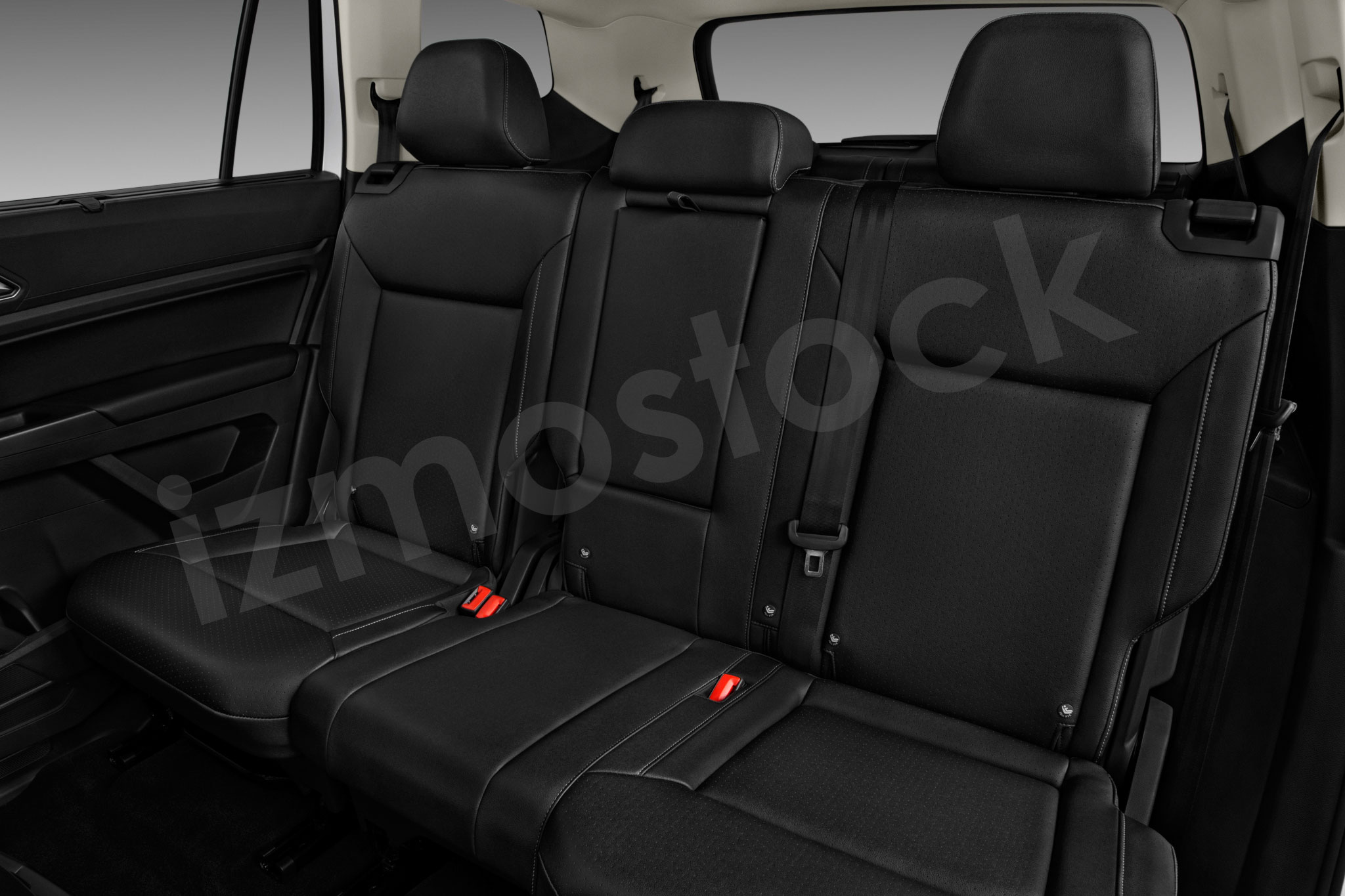 The 2018 VW Atlas Rear Row Seats: For more Volkswagen SUV Photos, Click Here
2018 VW Atlas: Mileage, Price, and Warranty
Volkswagen's latest SUV delivers an EPS estimated fuel efficiency of 18MPG City 25 MPG Highway.
The 2018 Volkswagen Atlas also comes with a transferable 6-year, 72,000-mile, New Vehicle Limited Warranty, which is America's best bumper-to-bumper transferable SUV warranty, per Volkswagen.
Prices start at $33,500. For more 2018 VW Atlas pictures, click here.