2019 Genesis G70 Stock Images: Lighter, Sportier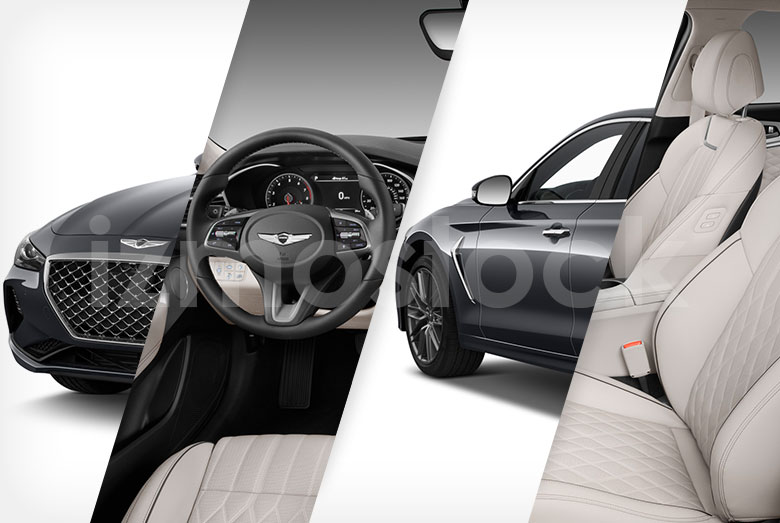 Looking to gain ground in the luxury sport segment, the fledgling automaker, Genesis, introduces the all-new 2019 Genesis G70. The smaller sportier brother to the luxury large sedan G80 and G90, the 2019 G70 is light on its feet without ever needing to cut corners.
2019 Genesis G70 Stock Images: Angular Front View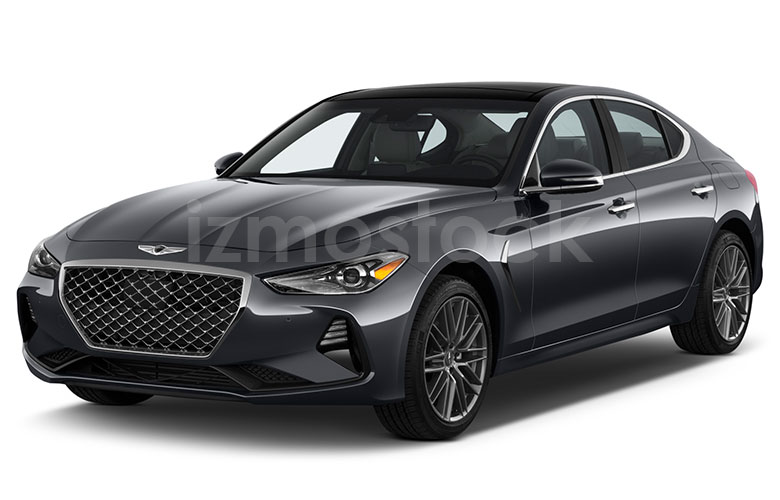 Set with aggressively angled headlights and a grille reminiscent of a chainl-link fence, the Genesis G70 is clearly looking to be seen as a tough competitor. However the hood is beautifully ridged and smoothed which matches a sporty demeanor more than that of muscle.
2019 Genesis G70 Stock Images: Front View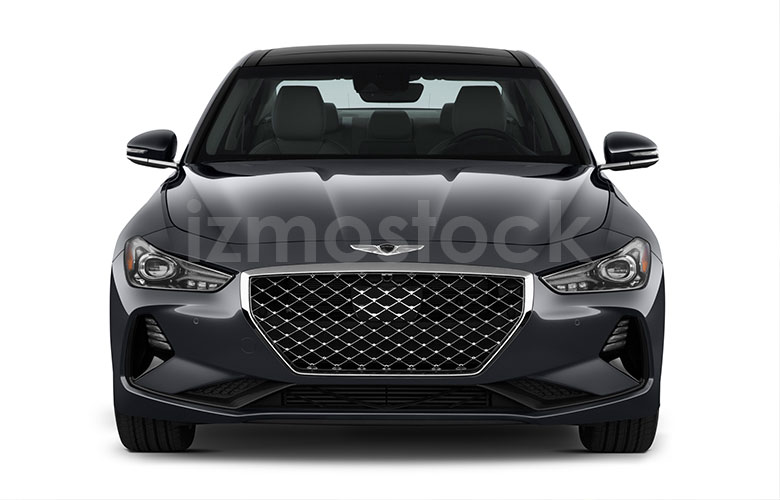 The profile of the 2019 G70 is coupe-like in appearance, but still very much a 4-door sedan. Chrome accented windows and door handles pop, as they're set against a dark metallic gray. Even it is clearly a unique car unto itself, certain features looks like they have been inspired by the BMW design playbook, i.e. the curve of the roof, front wheel vent, and aggressive shoulder line.
2019 Genesis G70 Stock Images: Angular Rear View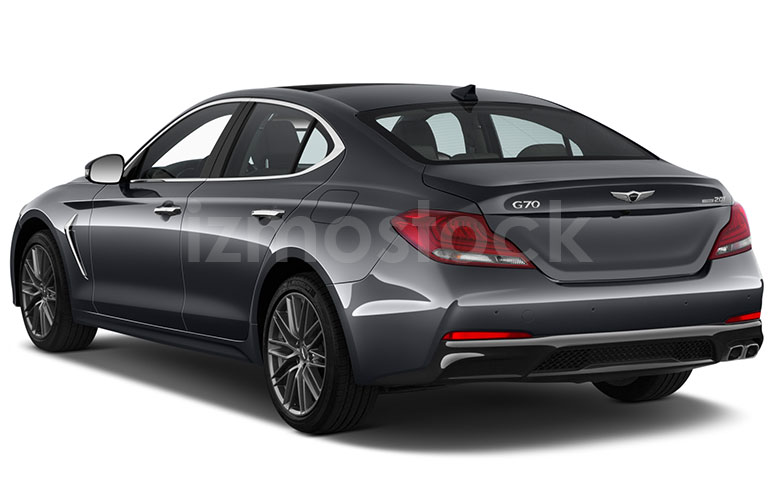 The rear of G70 appears short. The taillights conform to the trunk door, which is home to the Genesis winged emblem. The only true sign of the G70 being a sportier vehicle from the rear is the chromed double exhaust port.
2019 Genesis G70 Stock Images: Interior View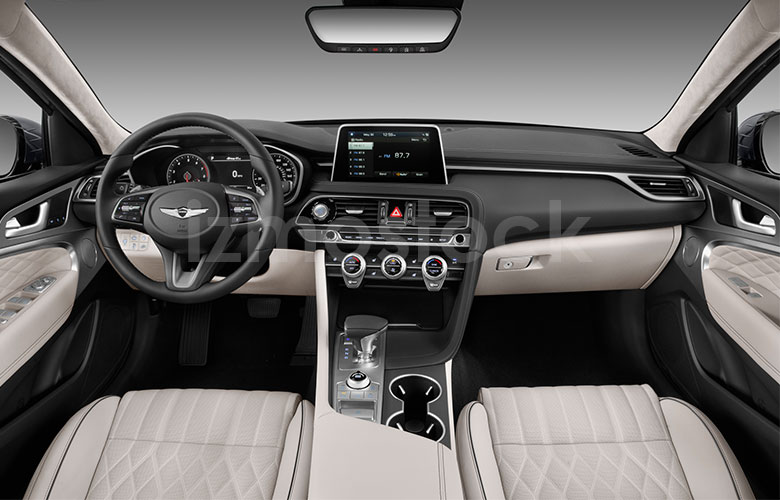 With more matte chrome standard than any other luxury sedan, the Genesis G70 approaches bling in its own way. What isn't metallic silver is finely worked leather, with the doors and seating showing off diamond stitching.
2019 Genesis G70 Stock Images: Front Seats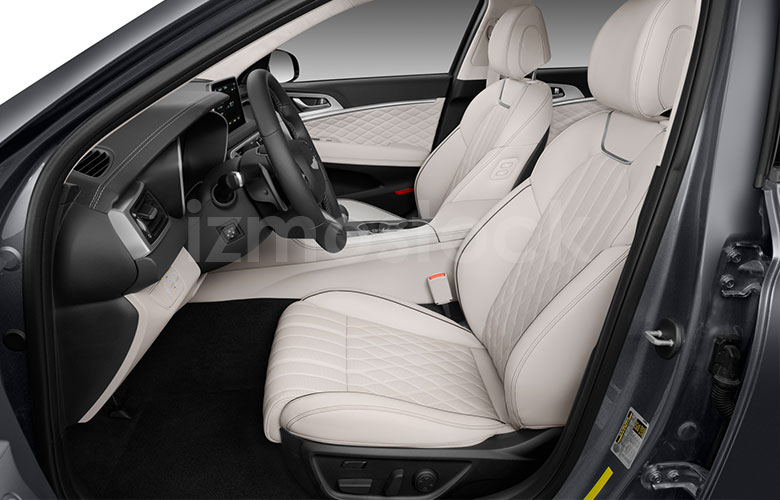 As with any sport sedan the driver and front passenger are always the first consideration when it comes to design. Front seats feature more controls than you can count, with two additional dials found the center outside.
2019 Genesis G70 Stock Images: Rear Seats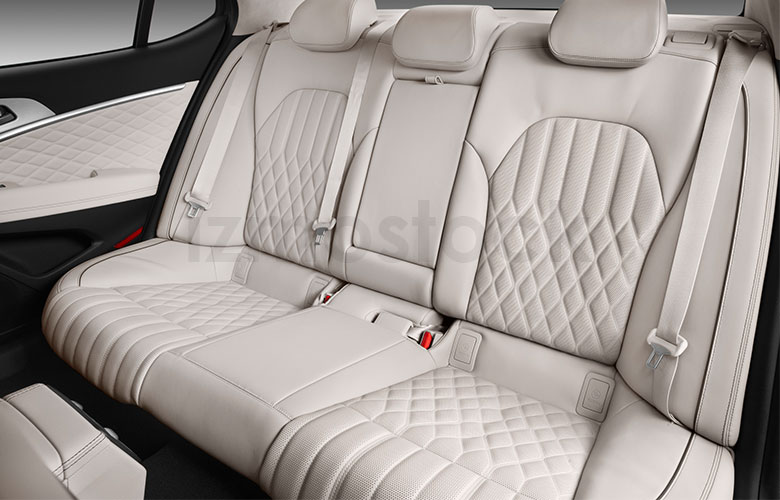 The rear seating is similarly welcoming. Fully clad in leather and in a brilliantly stitched pattern, the only downside of the sport sedan class is that legroom is short on ample for those sitting in the back.
The 2019 Genesis G70 is looking to break in the road for a younger automobile company. With everything to prove and nothing to stop them, the G70 borrows what works and breaks new ground featuring bright new aesthetics that can please any potential buyers.
For more hi-res. Stock images of the 2019 Genesis G70, Contact Us.