The 2019 Mazda 3 Hatchback Pictures: Fully Redesigned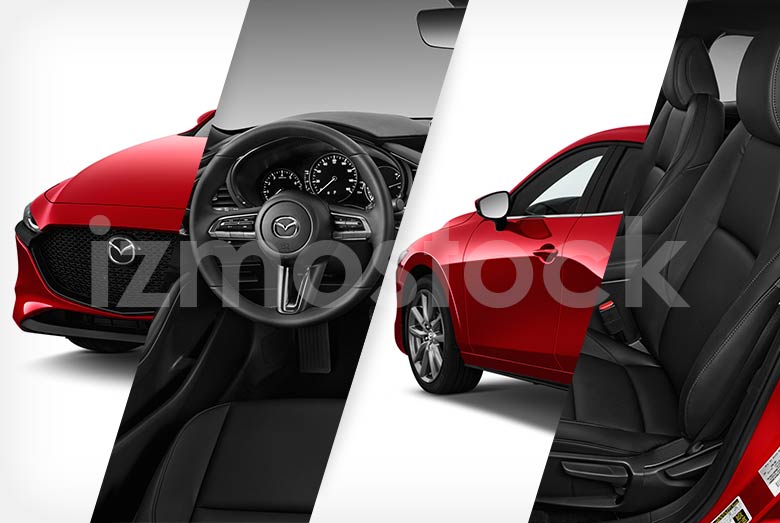 More polished and refined than ever, the 2019 Mazda 3 hatchback retains a nice shine in a market full of hatchback models.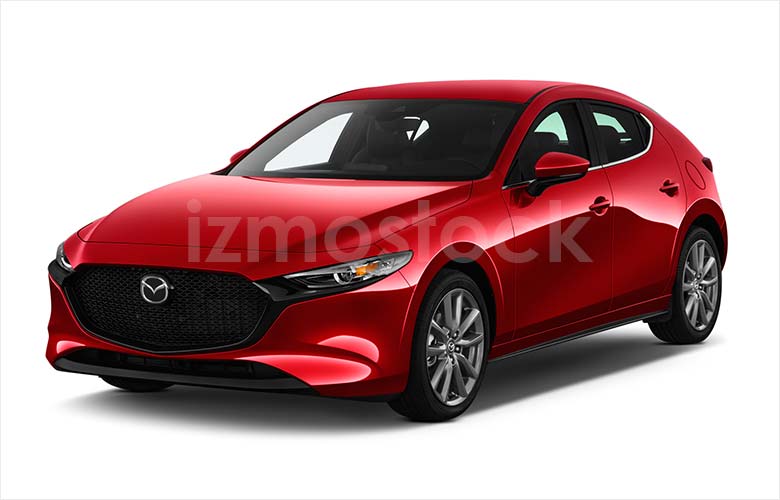 2019 Mazda 3 hatchback: Angular Front View
With a newly redesigned interior and exterior the Mazda 3 hatchback looks smoother than ever.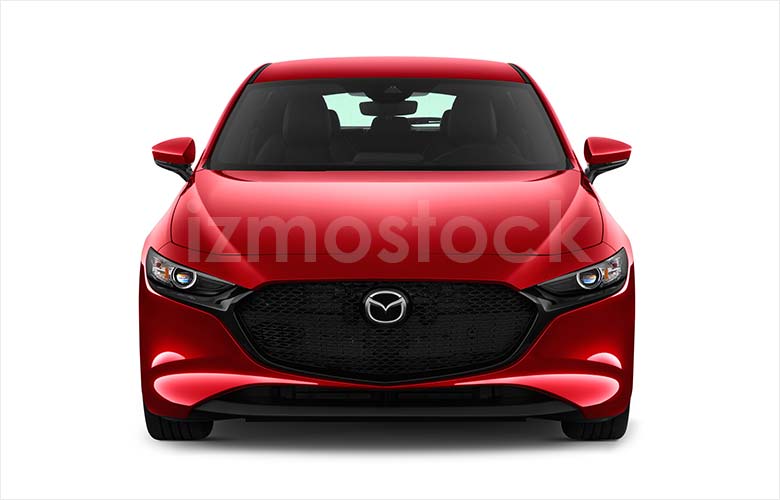 2019 Mazda 3 hatchback: Front View
The long slow sloping hood returns for the new model year, however a newly grated grille and black adornment take up the front.
The headlights are still tin and comprise mostly of one large spherical bulb. The lower fascia warps and bends like water carved stone.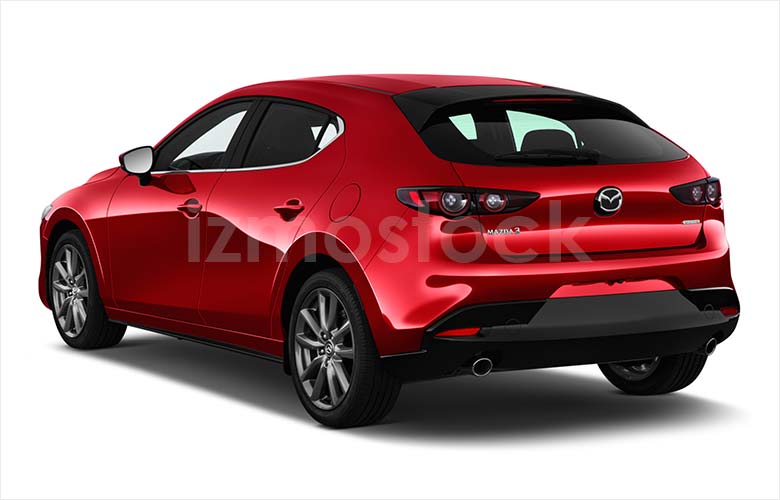 2019 Mazda 3 hatchback: Angular Rear View
The profile of the Mazda 3 hatchback loses all sharp edges and takes on the refined touches of a polished river stone. The sharp front comes to a nicely rounded rear that waves and bulges in and out.
A rear spoiler lies flush with the body, extending the roundness of the roof but still follows the overall smoothness of the unique design. The all-new taillights are also unique with a similar contour to the headlights. They differ, however, with eight LED point in two circular groups making for a distinct look while running.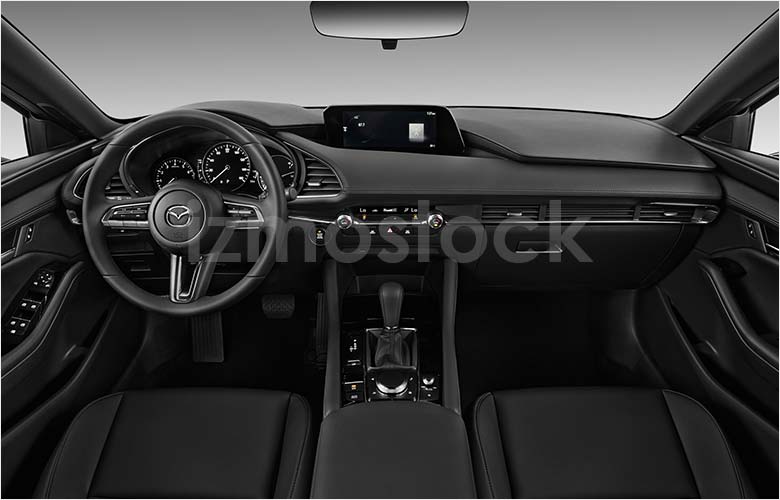 2019 Mazda 3 hatchback: Interior View
The new interior is stunningly simple and looks no different than any given luxury brand. Swept with leather and chrome accents, the interior of the 2019 Mazda 3 give many luxury brands a run for their money.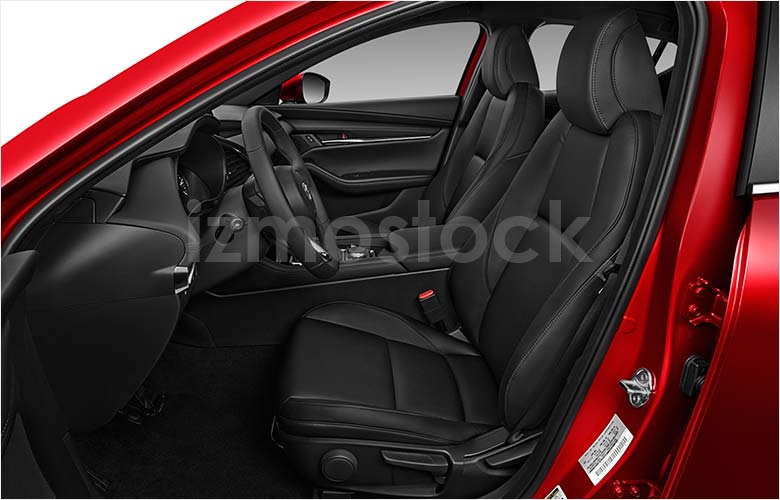 2019 Mazda 3 hatchback:  Front Seats
It does lack much of the technology of the higher end competitors, however its simplicity goes a long way and comes out completely classy rather than cheap.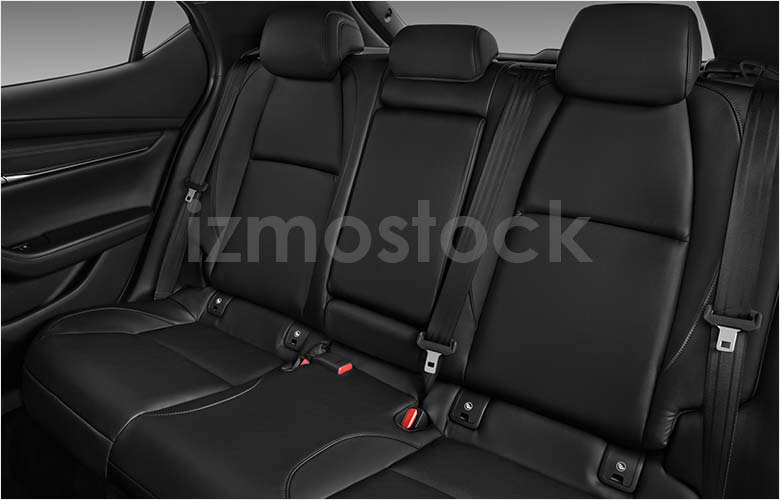 2019 Mazda 3 hatchback: Rear Seats
The newly redesigned Mazda 3 hatchback fits well above the average city car.
With newly softened curves and an all leather interior the 2019 Mazda 3 fits right in with the high-end luxury competition.
To license hi-res images of the 2019 Mazda 3 hatchback, Contact Us.