2019 Mercedes C43 AMG Stock Photos: Power and Presence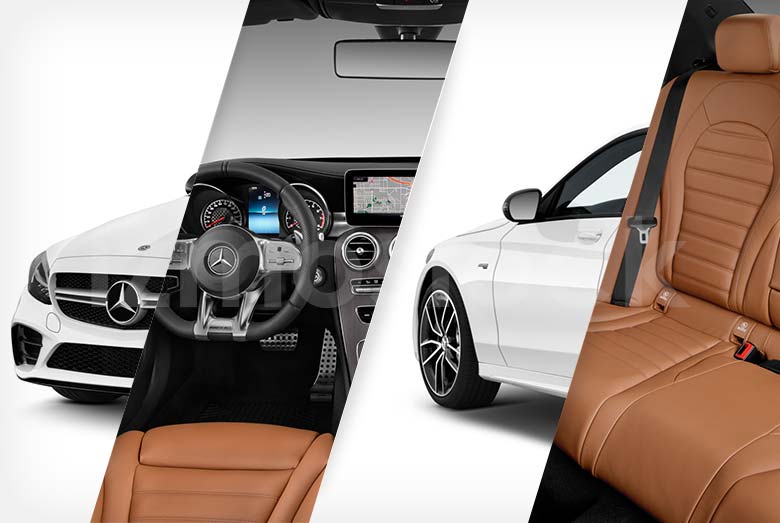 More discreet, more sporty, the 2019 Mercedes C43 AMG cares more about the ride and the rider than showing off on the road. With an exterior modeling more suited toward the sport sedan class, the C43 will turn heads with its speed than the regular Mercedes visage.
2019 Mercedes C43 AMG Stock Photos: Angular Front View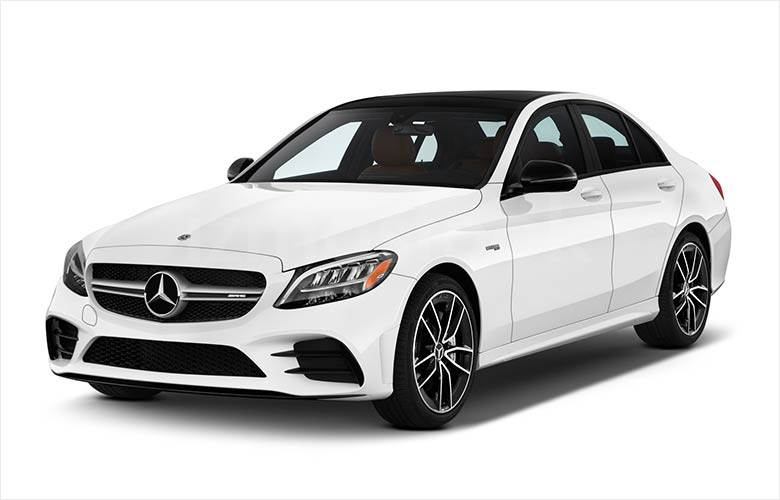 Less lavish than the higher trim models, the grille and fascia on the C43 AMG are more refined and less showy than other Mercedes models. The grille that surrounds the large Mercedes emblem is nearly invisible while the headlights and lower grille and vent openings make more of a visual impact.
2019 Mercedes C43 AMG Stock Photos: Front View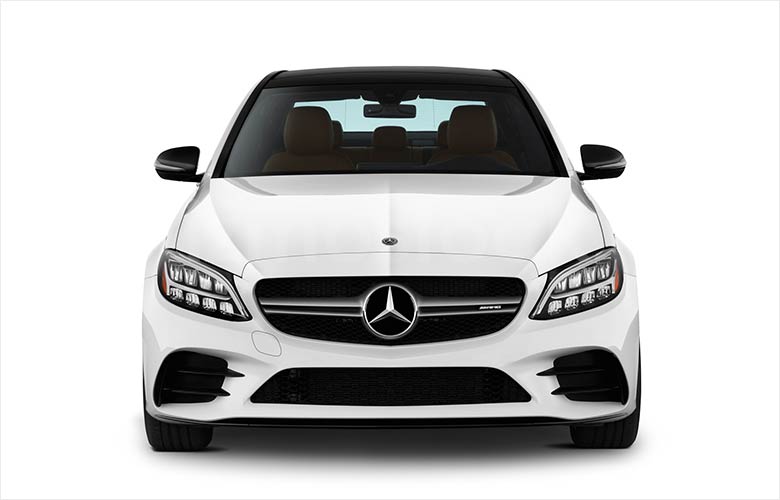 However don't let the 2019 Mercedes C43 fool you, it's still a sedan, and with four doors and an average roof height, the C43 doesn't quite hit the prerequisite of absolute sport monster.
2019 Mercedes C43 AMG Stock Photos: Angular Rear View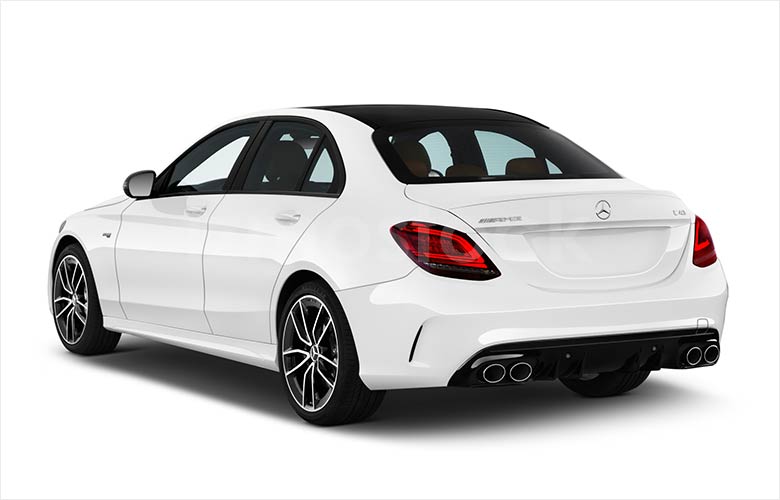 Similar to the latest trend of the floating roof, the Mercedes C43 opts for an invisible roof or faux convertible look with a black roof on white body. The boot and taillights are similarly as discreet as the front while also hiding the exhaust ports in black to reduce the overall showiness.
2019 Mercedes C43 AMG Stock Photos: Interior View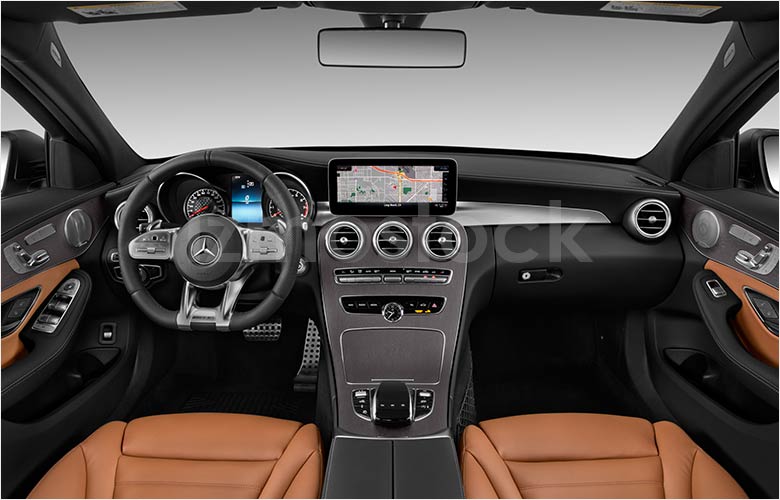 The interior of the 2019 C43 is where this Mercedes really shines. Despite the unassuming exterior, the interior is above and beyond normal Mercedes ventures. A mix of black and dark tanned leather mix beautifully with the natural texture of wood in the center console and smooth brushed metal trimming.
2019 Mercedes C43 AMG Stock Photos: Front Seats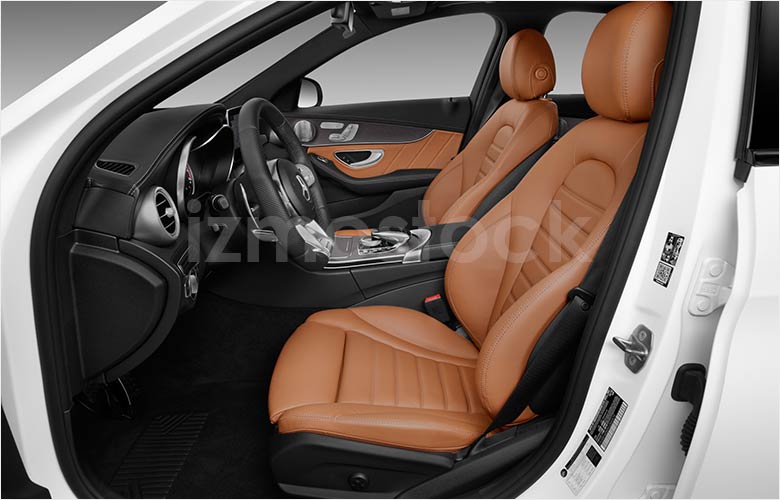 The driver's seat sets out to remind you the purpose of the C43, and that's to say that this isn't just a sedan. With sport like support in the fully leather seat, and perforated leather steering wheel, comfort and drive confidence is Mercedes' number one concern.
2019 Mercedes C43 AMG Stock Photos: Rear Seats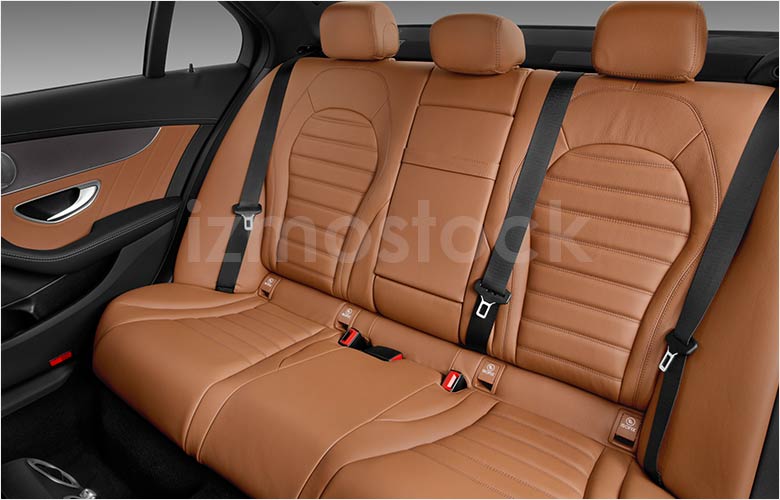 Of course the rear seating hasn't been forgotten either. Also all leather and fit for three passengers, anyone in the rear will similarly appreciate the ride as much as anyone up front. 
Although the Mercedes C43 AMG isn't decked out in chrome highlights and fancier trim like other models it shines in other regards. Focusing on the driver and the ride, the 2019 C43 is an experience that can only be felt on the open road.
To license 2019 Mercedes C43 AMG stock photos, Contact Us.