Top 5 Most Fuel Efficient Trucks: Review, Photos, Price, Interiors, and Specs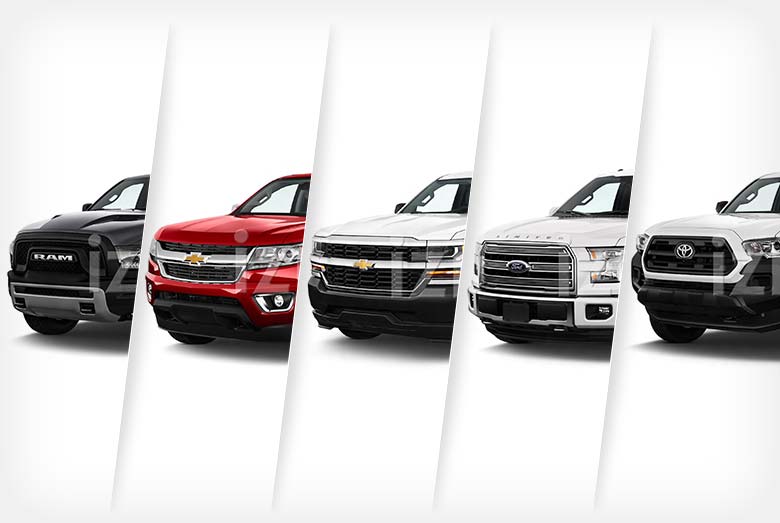 The pick-up truck has practically become an American icon. Here are the Top 5 Most Fuel Efficient Trucks, with Reviews, Photos, Price, and Specs.
You can see the sense in owning a truck, it is massively useful thanks to its large loading area which enables you to ferry around items that are far too big for any sedan or SUV to carry, and it gives you loads of room inside the passenger cabin as well.
At one point of time, trucks were just simple, rural vehicles. You only got the bare essentials and they were ruggedly built to stand up to all the punishment that driving around on the countryside entails.
Now though, you can walk into a showroom and buy a modern, good looking, comfortable and well kitted out pick-up truck that won't make you feel like a hillbilly! The only trouble with most trucks is that they are gas guzzling, environment unfriendly behemoths.
Here are a few trucks that don't really harm our planet.
Fuel Efficient Trucks 1: Chevy Colorado and GMC Canyon 22/30
If you buy a 2017 Chevy Colorado and equip it with the 2.8 liter, 4 cylinder, turbocharged Duramax diesel engine, you would have bought one of the most fuel efficient trucks that money can get you in America. This engine pounds out 181 hp but it returns 22 mpg on city roads and a whopping 30 mpg on the highway.
Although we feel that it could've looked more impressive, the Colorado makes up for it by providing a best in class 7,700 lb towing capacity. For better interior quality, take a look at the GMC Canyon, which is mechanically identical to the Colorado, right down to its amazing fuel economy.
The 2017 Chevy Colorado starts at $20,000, and the GMC Canyon at 20, 885.
For Chevy Colorado pictures, click here.
For GMC Canyon pictures, click here.
Fuel Efficient Trucks 2: Ford F-150 2WD 19/26
The Ford F-150 is the most popular pick-up on sale today, and it also happens to be one of the most fuel efficient trucks available. It ticks all the right boxes in the power, features and driving capability departments and best of all, it doesn't cost an arm and a leg to purchase.
The 2.7 liter V6 gasoline engine has been turbocharged to boost the power output to 325 hp. This power is delivered to the wheels via a 6 speed automatic gearbox.
Despite this high power figure, the F-150 still manages to return 19 mpg (city) and 26 mpg (highway). With such credentials, we think the Ford F-150 will continue to be the bestselling truck on earth for a long time to come.
The 2017 Ford F-150 starts at $27, 110. For Ford F-150 pictures, click here.
Fuel Efficient Trucks 3: Ram 1500 21/25
The Ram 1500 gives its owners everything they need, and more importantly, it also comes with masses of presence on the road. Festooned with lashings of chrome and bold detailing everywhere, the Ram 1500 definitely can't be missed.
Under its hood is a 3.0 liter V6 diesel engine that has been turbocharged to deliver 240 hp.
Paired to an 8 speed automatic transmission that routes power to the rear wheels, the Ram can do 21 mpg on city roads and 25 mpg on the highways.
The Ram 1500 is one of the most fuel efficient trucks on U S roads, as well as one of the best bang-for-your-buck trucks that you can buy today, which is even more of an incentive for potential buyers.
The Ram 1500 starts at $26,495. For Ram 1500 pictures, click here.
Fuel Efficient Trucks 4: Toyota Tacoma 19/24
The Tacoma is one of Toyota's highest selling models in the US. This mid-sized truck is powered by a frugal 2.7 liter, 4 cylinder gasoline engine that makes 159 hp.
With its commendable fuel economy figures of 19 mpg in the city and 24 mpg on the highways, it is one of the most fuel efficient trucks as well as one of the most affordable trucks in this list. While it is agreed upon that the passenger comfort levels could have been higher and that the list of features more generous, there is no doubt that the Tacoma does offer excellent value for money.
The Toyota Tacoma starts at $24,320. For Toyota Tacoma pictures, click here.
Fuel Efficient Trucks 5: Chevrolet Silverado 1500 18/24
The Chevy Silverado is another one of those vehicles that continually sets sales records, and it's clear to see why. The Silverado 1500 is one of the most value for money, fuel efficient trucks around.
Even in the design department, this vehicle chooses to be straight and understated than flashy with muscular body panels and so on. Despite having a 4.3 litre beast of a gasoline V6 motor that pumps out 285 hp, the Silverado still manages to return remarkable 18/24 mpg (city/highway) fuel efficiency figures.
It costs just under $28,000 to own one. For Chevy Silverado pictures, click here.