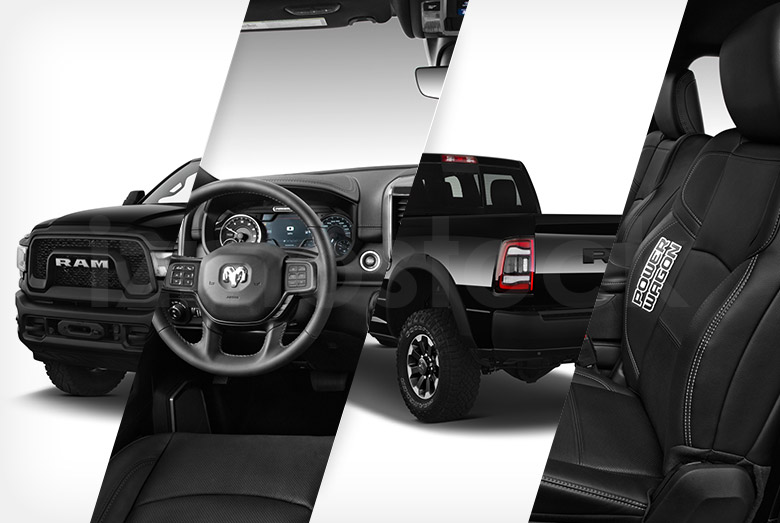 The 2020 Dodge Ram 2500 Power Wagon captures the true spirit of Dodge, "Domestic. Not Domesticated." The truck packs in a 6.4L V8 that produces 410HP and 429 lb-ft of torque, in true Dodge fashion. That marvelous V8 is mated to a seamless 8-speed automatic transmission. This gives the Power Wagon a payload capacity of 1,510 lbs and a towing capacity of 10,350 lbs.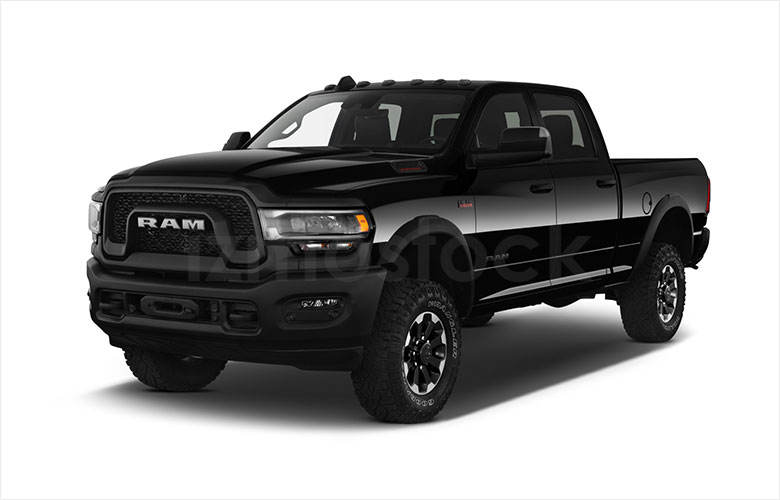 2020 Dodge Ram 2500 Power Wagon Stock Photographs: Angular Front View
Making the 2500 Power Wagon even more irresistible, Dodge includes a large plethora of off-road ready parts standard on the truck. These standard components include a front electric winch, a front disconnecting stabilizer bar, Bilstein shock absorbers, Ram articulink suspension, fuel tank and transfer case skid plates, Tru-Lok front and rear axles, and more.
Power Wagon comes so well equipped on the base model that honestly, you don't need to add any other options. But for those of you who like to option out a car to really make it custom to you, don't worry, Dodge still has so many ways of customizing your Ram.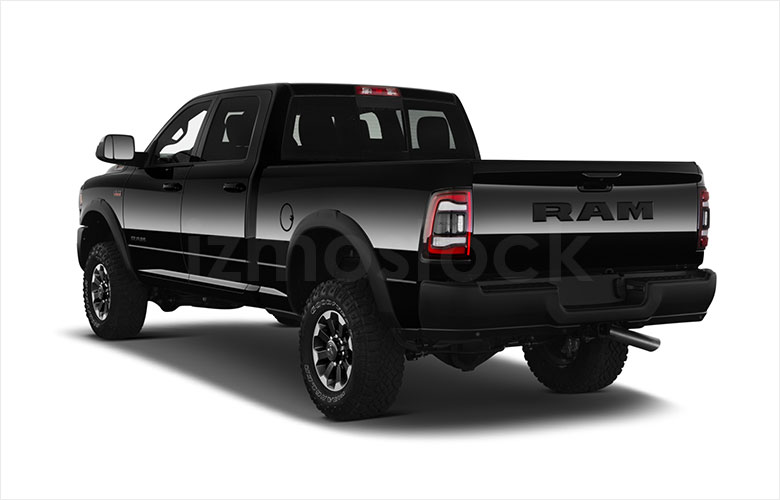 2020 Dodge Ram 2500 Power Wagon Stock Photographs: Angular Rear View
Moving to the exterior of the vehicle, Ram Power Wagon sports a front end that looks like Ram Rebel on steroids. The traditional Ram horseshoe front grill is more elongated than the Rebel, giving Power Wagon massive road presence.
The front LED running lights look great, day or night. The front winch adds that extra flare to the front end of Power Wagon, giving the truck an off-road stance. The truck is also equipped standard with 33-inch trail ready tires, tucked nicely under large fender flares, available only on Power Wagon.
If the massive leap into and out of the truck is too much for you, side tubular bar steps are available. The rear of the truck looks clean with the new 2020 tail lights, but the coolest features in the rear aren't necessarily visible. These features include the RamBox cargo bed storage, a dampened tailgate, optional remote open tailgate, and a deployable Mopar bed step.
If you're going to be using Power Wagon as a tow rig, there's even an optional tow package.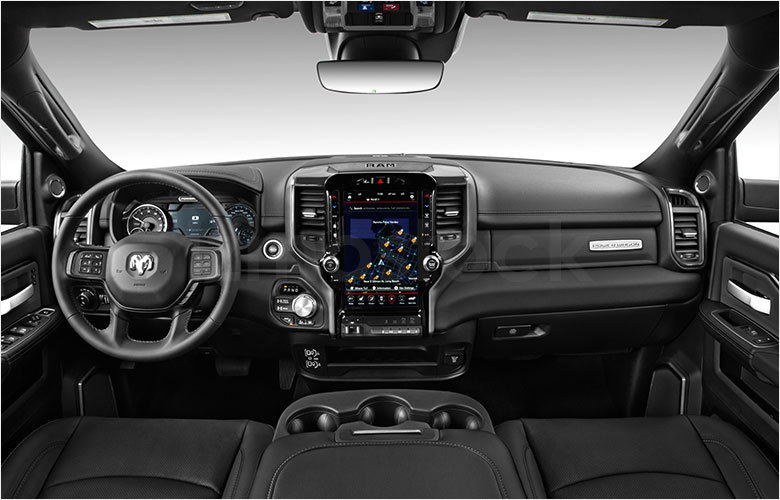 2020 Dodge Ram 2500 Power Wagon Stock Photographs: Interior View
The interior of the Dodge Ram 2500 Power Wagon is equally impressive. Optional leather seats look and feel like something you may find in a Cadillac and not a truck. The leather seats in front come heated and ventilated, and the rear are heated too.
Rear seats also have access to 2 USB charging ports, as well as a standard wall outlet. The driver's seat also has 8-way adjustable lumbar support, and the passenger seat is  2-way adjustable. .
The seat settings, as well as pedal, mirror, and radio settings can be saved per driver.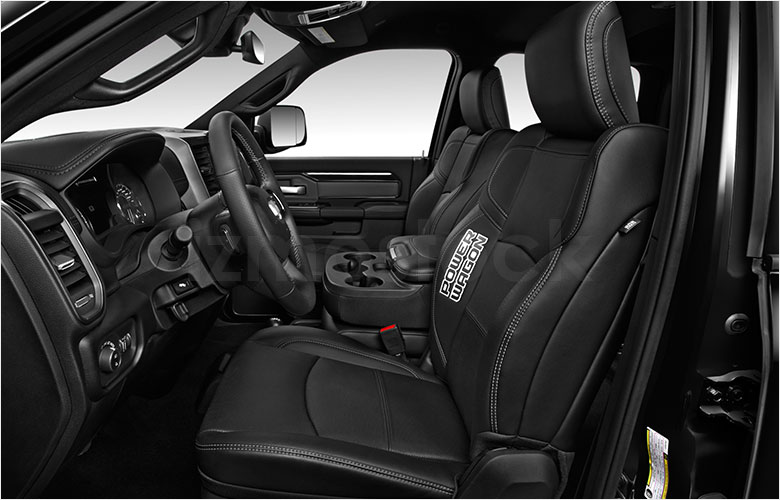 2020 Dodge Ram 2500 Power Wagon Stock Photographs: Front Seats
Probably the most obvious new interior feature, is the available Uconnect 12-inch touch display with navigation which is easy and intuitive to use. While driving your leather seat equipped truck, enjoying your 12-inch touch display, you are also surrounded by a 17-speaker Harman Kardon Premium sound system.
The 2020 Dodge Ram 2500 Power Wagon is truly the vehicle to do it all, as long as you're not parking in a compact space. With a luxurious interior, arguably too nice for a truck,, sharp styling, and an abundance of off-road ready features, Power Wagon is one of the most capable vehicles on the road, staying true to the Dodge name. Domestic. Not Domesticated.
To license hi-res stock photographs of the 2020 Dodge Ram 2500 Power Wagon, Contact Us.