2019 Audi TTS Coupe Stock Photos: The quintessential Roadster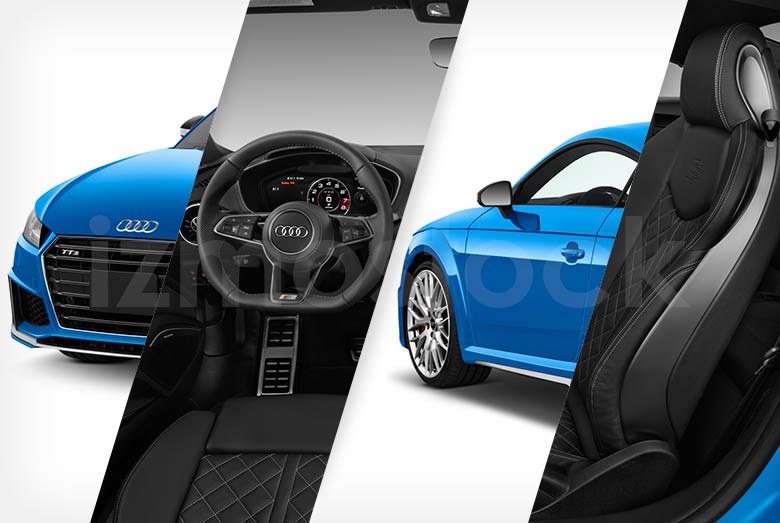 The 2019 Audi TTS is the driver centric small car speedster we've all dreamed of. Seeing few alterations since its conception, the Audi TTS is still a stout and rounded vehicle.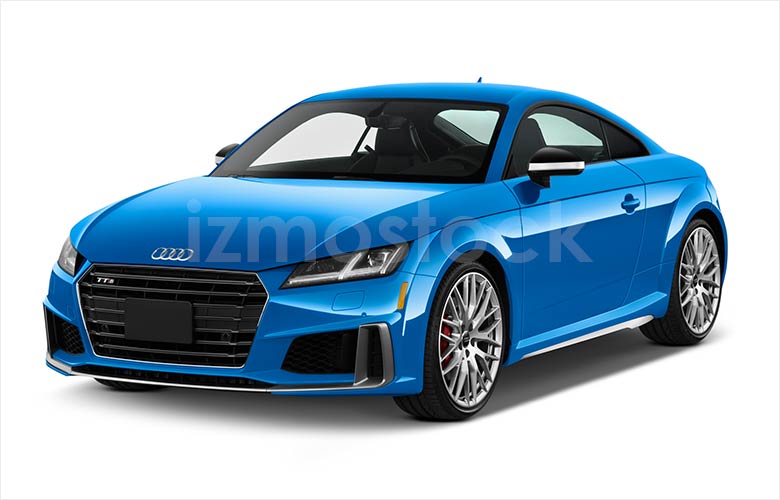 2019 Audi TTS Coupe Stock Photos: Angular Front View
The quintessential roadster, the 2019 TTS sees the addition of many sharp edges and chiseled points. Two hard hood ridges ride down to the headlights, which come to a sharp point.
The grille and side vents are usual Audi fair consisting of thin horizontal lines and a standard looking mesh respectively.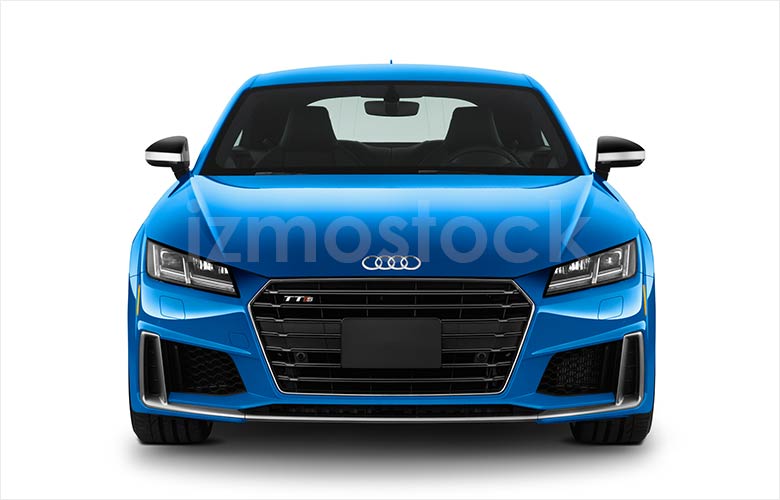 2019 Audi TTS Coupe Stock Photos: Front View
The profile is expectedly short. The wheel base nearly spans the length of the car helping reduce weight and while also make the most of the space you're riding on.
Just like the original, the cockpit has a detached sort of appearance, looking like it was placed on top of a flat-topped body.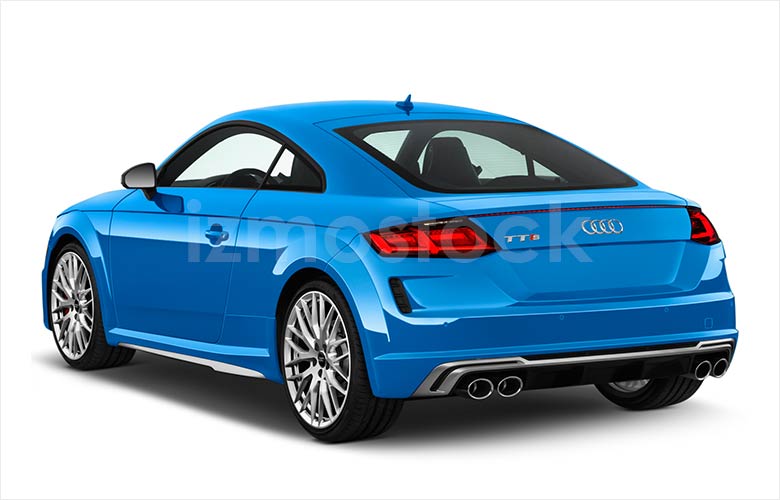 2019 Audi TTS Coupe Stock Photos: Angular Rear View
The rear has some additional sharp edges too, mostly to help define the shape of the rear fascia and emphasize the quad exhaust pipes. The taillights are an interesting mix of sharp edged arithmetic and contrasting angularity.
The third brake light is a thin strip of red LEDS, which connects the two taillights.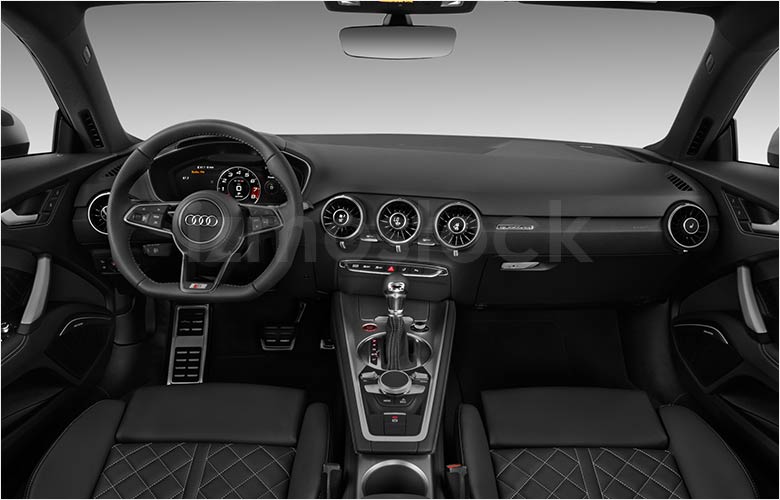 2019 Audi TTS Coupe Stock Photos: Interior View
The 2019 TTS's interior is completely unlike Audi's other models. Keen on making the vehicle driver focused there is only one screen; the cluster gauges.
Controls like the ones for climate have been relegated to the dials that control them, which is an extremely crafty way of keeping things modern and digital.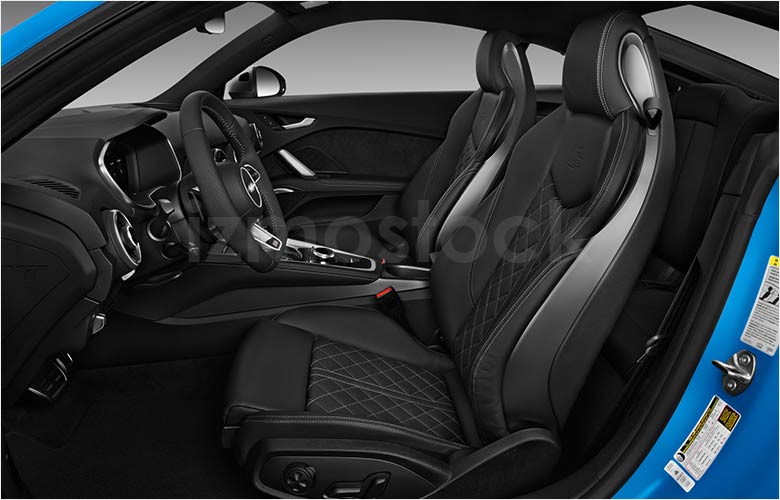 2019 Audi TTS Coupe Stock Photos: Front Seats
Upfront are adjustable bucket seats fully clad in black leather and accented with white stitching. The interior is unsurprisingly small, but not cramped and takes on the theme of a dark cave with brushed silver accents.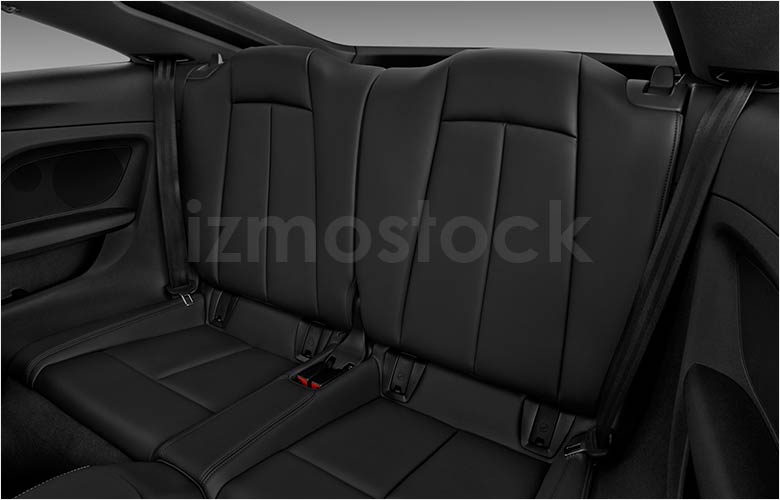 2019 Audi TTS Coupe Stock Photos: Rear Seats
Suffices to say the 2019 TTS was not designed with rear passengers in mind. Despite being a little cramped and with headrests omitted, Audi did not skimp on its materials still allowing for smaller passengers to enjoy a comfortable leather laden ride.
With an iconic oval body and distinctive hump-like roof, the Audi TTS is distinctive even among other Audis. Whether it's for its minimalist interior or sporty coupe styling the 2019 Audi TTS is the small racecar we've always wanted.
To license 2019 Audi TTS Coupe Stock Photos, Contact Us.