2019 BMW 740i Stock Photos: Ultimate Indeed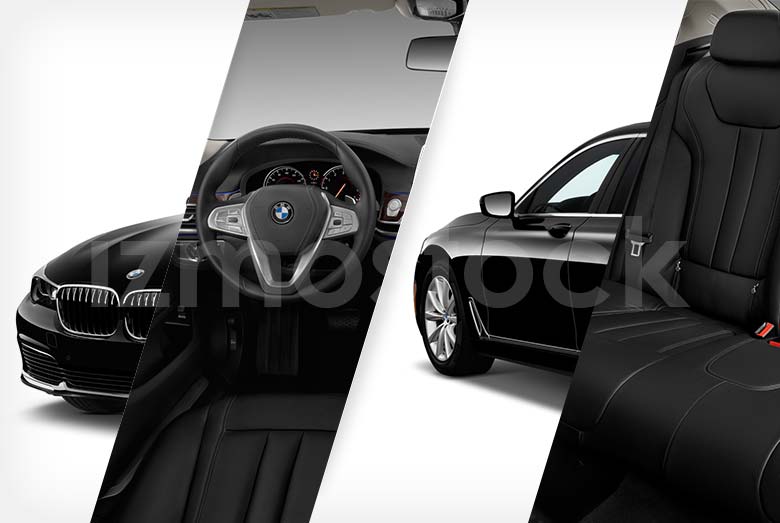 Keeping with the moniker, "ultimate driving machine," the BMW 740i exceeds all expectations. As a super luxurious large sedan, the 2019 740i looks to attract power hungry enthusiast drivers as well as pampered and deserving passengers.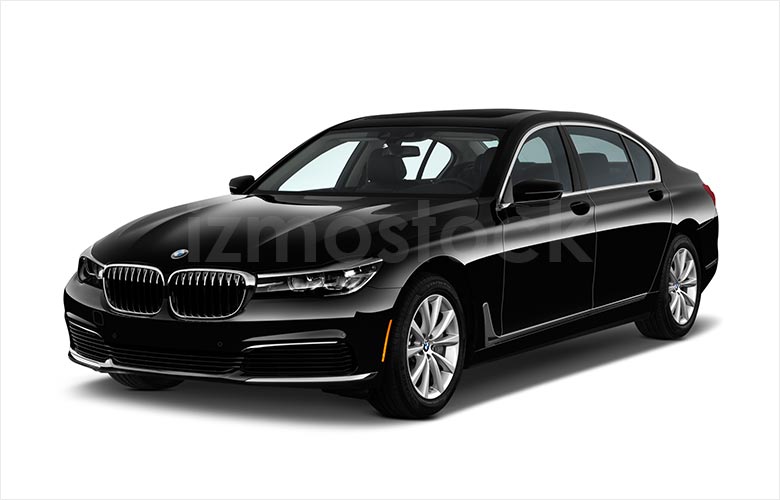 2019 BMW 740i Stock Photos: Angular Front View
Easily recognizable with the always-stylish kidney grilles, the 740i takes it a step further with the powered grille slots that open only when cooling is necessary. The headlights now feature an open-air design and are no long encased by the front fascia, but are only covered by the long sweeping hood.
The lower grille although, for the most part discreet, features its own chrome trimmings to match its kidney counterparts.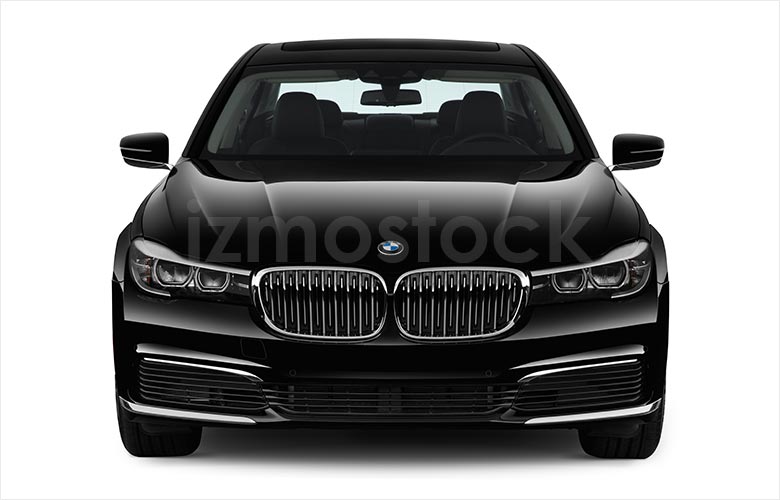 2019 BMW 740i Stock Photos: Front View
Giving extra room for passengers and driver alike, the 2019 740i takes on a healthy length. A length of chrome trim spans both door highlights, venting behind the front wheels.
Looks from the profile are unassuming and not many risks were taken with the overall form.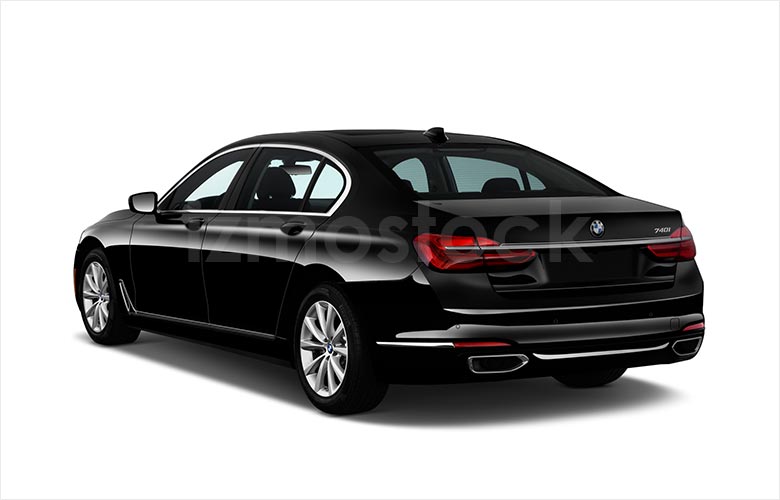 2019 BMW 740i Stock Photos: Angular Rear View
Making the most out of the room in the rear, the trunk of the 2019 BMW 740i is squared and mostly featureless. The rear fascia protrudes slightly only to make some room for the two sizable exhaust ports and chrome flourishes.
Taillights are claw like in design and are connected by their own length of chrome trimming.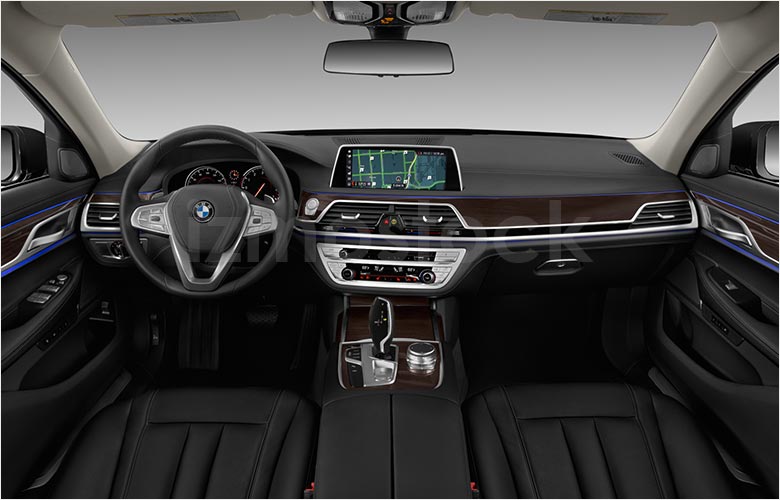 2019 BMW 740i Stock Photos: Interior View
Aiming to win over any potential buyers, the 740i features world-class interior tech and design. Glossy wood and brushed metal surfaces are surrounded by multi-color LEDs, allowing you to set the mood inside.
Temperature controls are touch-sensitive sliders supported by their own screen, allowing the infotainment system to display directions unobstructed.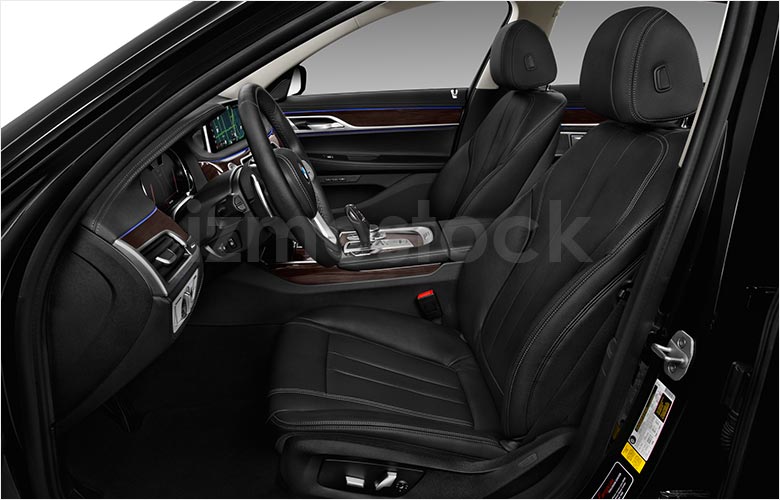 2019 BMW 740i Stock Photos: Front Seats
Up front is ultra plush seating bound in leather for max comfort when driving. Controls are a comfortable reach away while not being distracting and with multiple seating presets, the driver's chair can be customized to multiple users without compromise.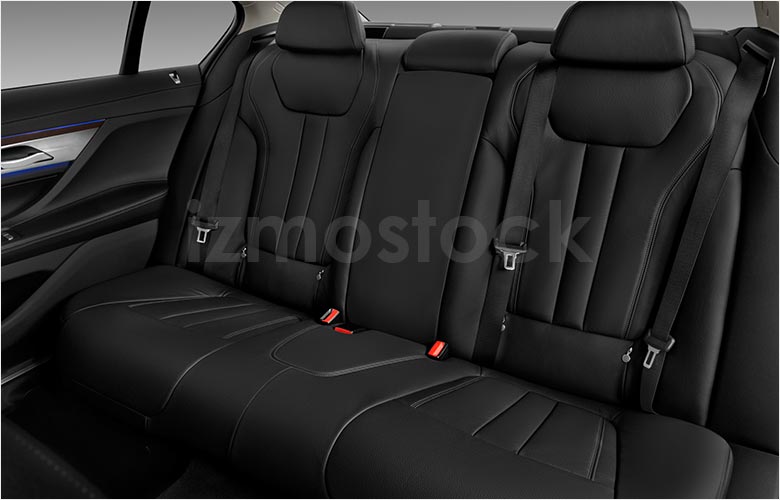 2019 BMW 740i Stock Photos: Rear Seats
Rear seating is equally as opulent as the front. With even more room, rear passengers can truly spread out and enjoy the excellent ride comfort from the 2019 BMW 740i.
They say, with great power comes great ride comfort, beautiful design, and interior opulence. At least they do when it comes to the 2019 BMW 740i.
With modern styling and integrated classic design focal points, the 2019 740i is indeed the ultimate driving machine.
For more hi-res 2019 BMW 740i Stock Photos, Contact Us.