2019 Ford Transit Stock Photography: Interior Pics, Exterior Images, Dashboard, Seats, and More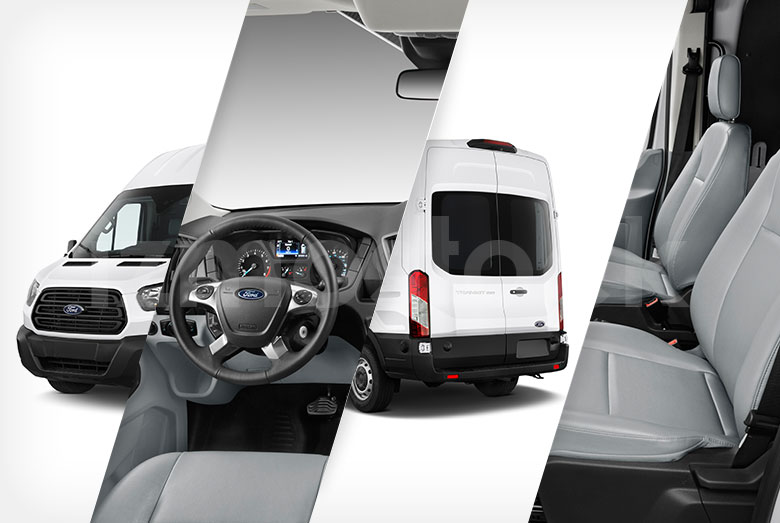 Often, "compact yet spacious" turns out to be an oxymoron that do not go hand in hand. The 2019 Ford Transit is an exception, and the 2019 Transit finds itself well suited for more than just the ordinary.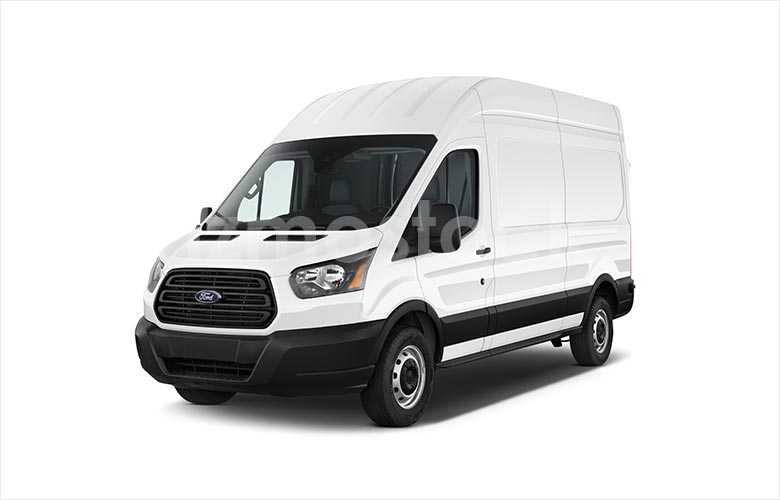 2019 Ford Transit Stock Photo Gallery: Angular Front View
The 2019 Ford Transit manages to hold onto a decent aesthetic not far off from modern minivans. Clearly aiming for utility and keeping costs down, there are no frills such as chrome trimming to be found on the Ford Transit.
The grille is a highly protective design reminiscent of an umpire mask. The lower fascia is completely taken up by a plastic bumper and skirting that travels down the 2019 Transit's length.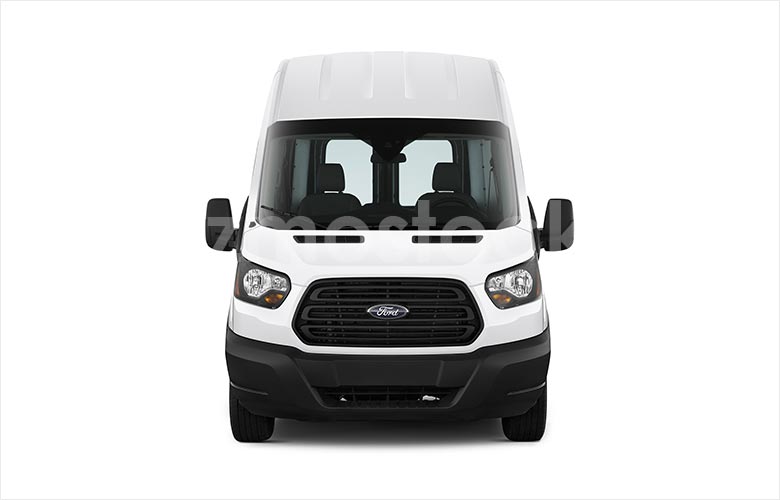 2019 Ford Transit Stock Photo Gallery: Front View
The headlights lack any fancy LEDs, but are large and contain dual lamps for more efficient lighting. With a shortened hood and large sloping roof, the Transit is a bit of an oddity in form that lends itself cuteness not dissimilar to a pug.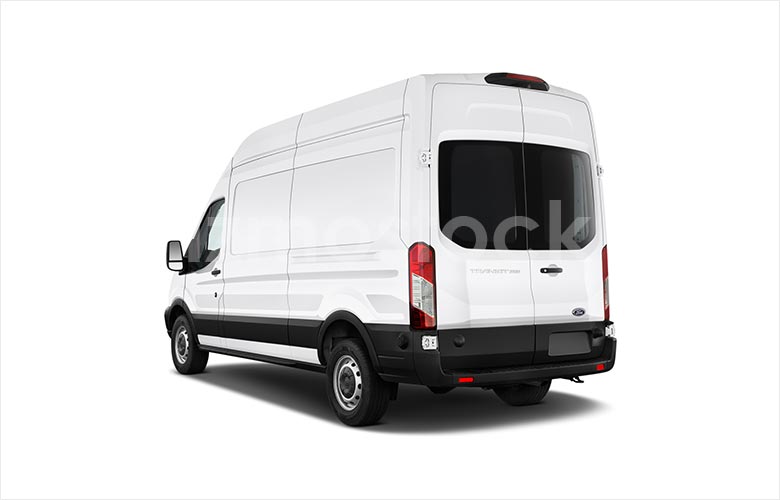 2019 Ford Transit Stock Photo Gallery: Angular Rear View
The taillights feature a monolith design, which is unique to the Transit. The profile is tall and mostly flat with the exception of a few aerodynamic indents. Its wheel follow suit in terms of being cost efficient, being comprised of a standard hub and a reduced cap meant to protect your bolts from the elements.  With no side windows all of your visibility relies on the extra tall side mirrors and enlarged rear window.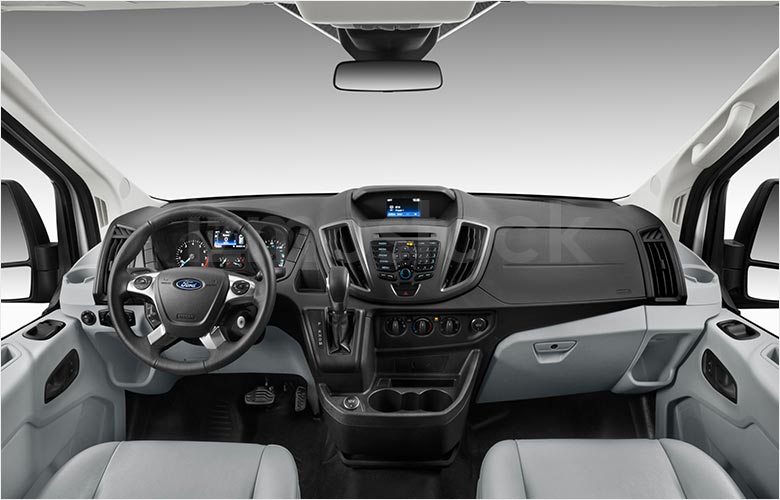 2019 Ford Transit Stock Photo Gallery: Interior View
Tough plastics set the stage of the interior of the 2019 Transit for long term reliability and easy cleaning. The small dashboard makes the most of its space featuring a small radio and info display and a full suite of buttons for controls.
Extra utility is given to the door sides with additional cup holders and angled side pockets. The steering wheel is the only part of the 2019 Transit that sees any flourish with a small amount of matted chrome. It comes with a set of controls for the radio display as well as the digitized gauge screen located behind it.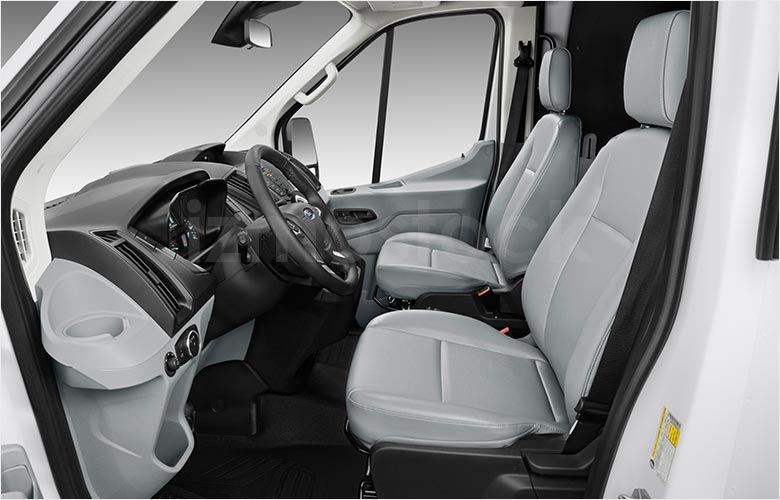 2019 Ford Transit Stock Photo Gallery: Front Seats
Wholly better than their cloth counterparts for durability, the 2019 Transit opts for faux leather seating meaning no tears and less stains that are sure to come with age. Given the 2019 Transit's height, the front doors provide a huge opening for easy access as well as a lower interior step so that there's no literal "jumping in".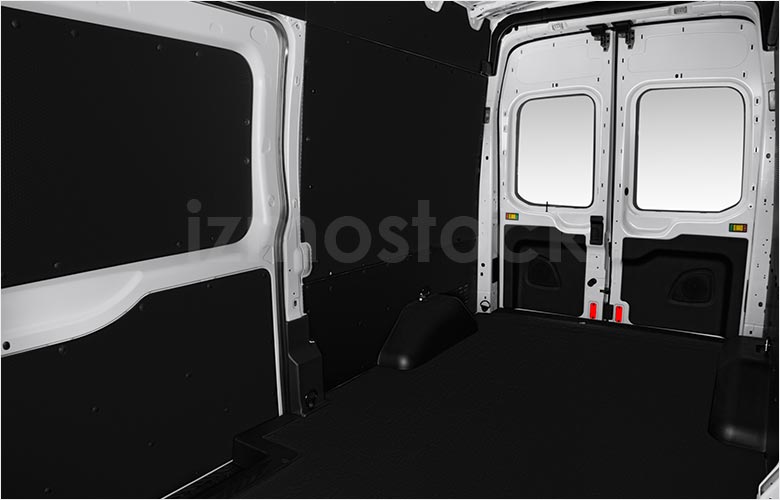 2019 Ford Transit Stock Photo Gallery: Rear Space
Of course its true value and beauty lies in the rear space, which is tall enough for standing and wide enough for basically everything else. The rear doors are generously tall and with the low bumper step make getting in and out of the Transit an easy task. With its passenger side sliding door, the 2019 Transit cements itself as a complete utility vehicle.
The 2019 Ford Transit is more than just a work van. For some a home on the road and others a mobile workstation, there is no greater van than one without limitations like the 2019 Transit.
To license 2019 Ford Transit hi-res stock images, Contact Us.