2020 GMC Sierra Stock Photo Gallery: Exterior Photographs, Interior Snaps, Dashboard, Seats, Wheels, and More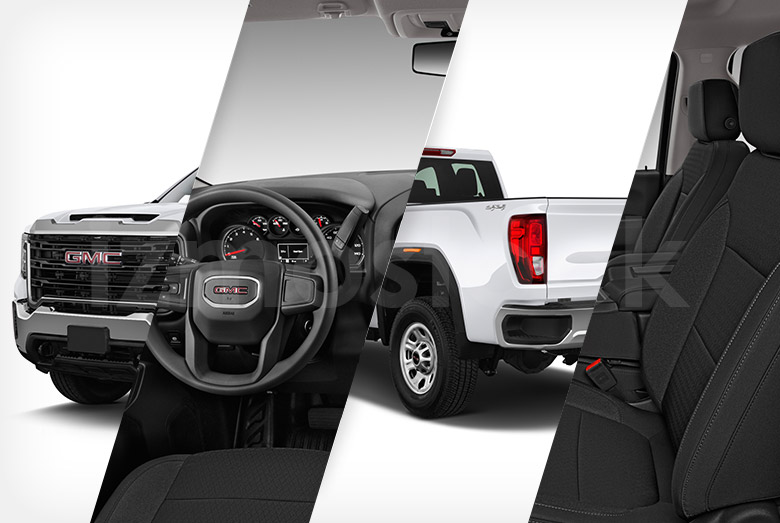 Built like a brick wall, the 2020 GMC Sierra is the full powered towing, hauling, worksite monster you've always dreamed of. Incapable of messing around, the 2020 Sierra is a stoic mass waiting to outperform every task you throw at it.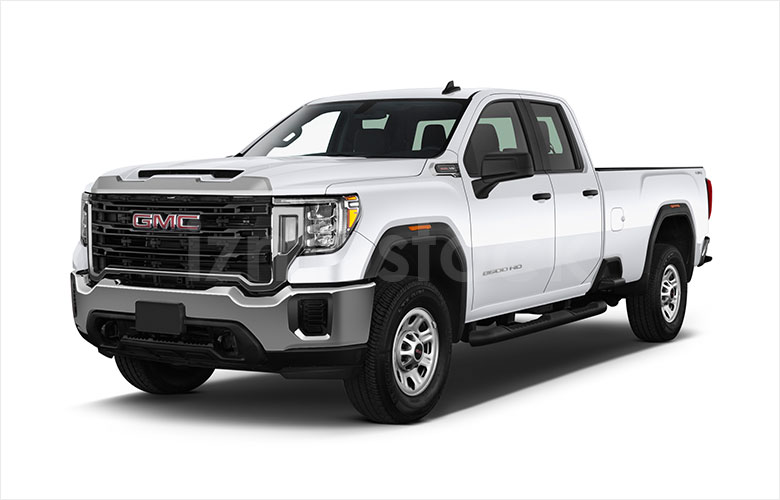 2020 GMC Sierra Stock Photo Gallery: Angular Front View
Fitting everything it can under its massive hood, the front of the 2020 Sierra is boxy and just as intimidating. A piano black grated grille is accented by chrome winged flanges that separate the turn lights from the main beams. The hood forms a broad snout that includes an additional air intake. Below is a chromed bumped and lower plastic fascia which houses the tow hooks.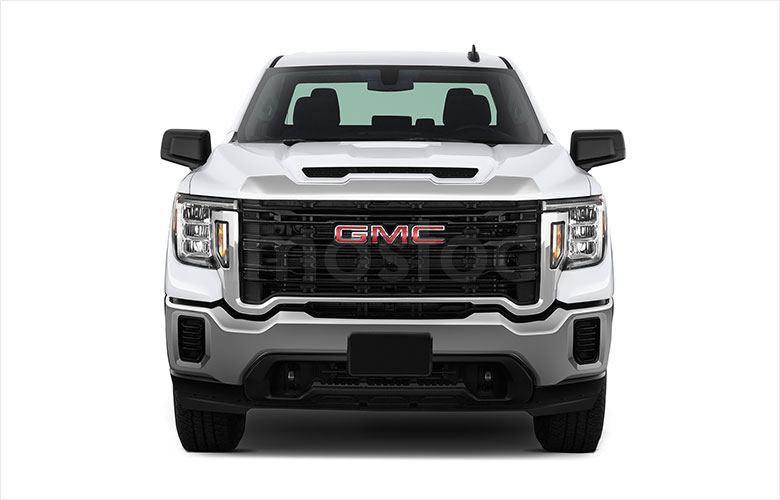 2020 GMC Sierra Stock Photo Gallery: Front View
Front and center and adding a splash of color is the bright red GMC logo leaving no one guessing what family of truck it belongs to. Being a four-door cab, the 2020 possesses an exceptional length befitting a heavy duty work truck. The truck bed comes out nearly level from the front giving it an overall balanced look. The wheels appear as standard rims which is probably best for long term durability needed for tougher jobs.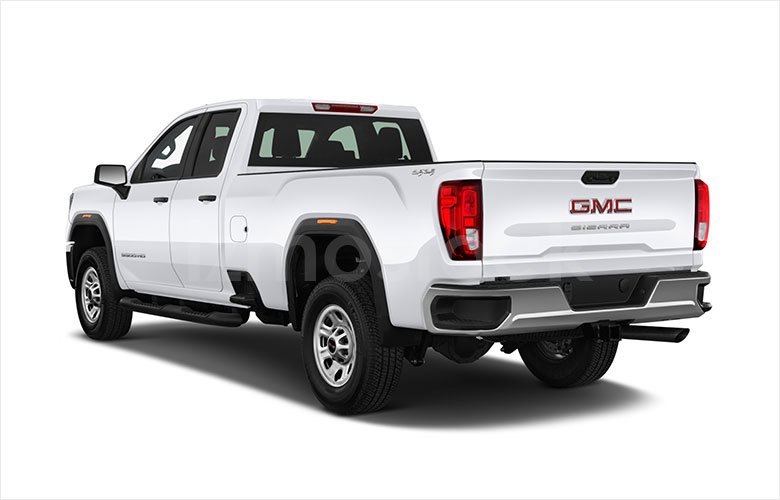 2020 GMC Sierra Stock Photo Gallery: Angular Rear View
Accessibility is another area the 2020 GMC Sierra excels in, with a textured door step and dual bed steps at each corner. The rear sings of standard blockiness seen in most trucks, with tall blocky taillights, high rising, tail gate, chromed bumper, and a plain tailpipe that doesn't mess around. Some nice additions though are the wheel well plastic skirting and bumper's inset electrical outlets that add the next level of utility.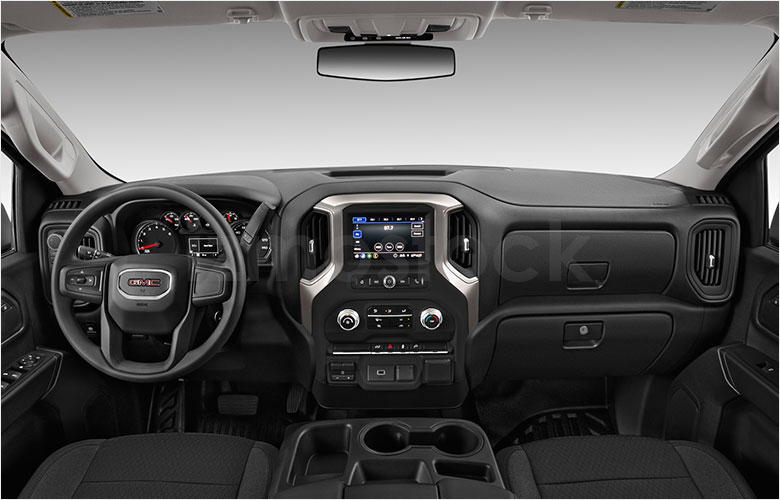 2020 GMC Sierra Stock Photo Gallery: Interior View
The interior also makes use of the front as much as possible. A front bench seat has a folding middle seat that doubles as cupholder space and locking compartment. The top of the dashboard is fleeting in depth, but makes great use of its vertical height with dual glove compartments on the passenger side. In the center is a touchscreen infotainment system, dialed climate controls, and several options for electrical plugs.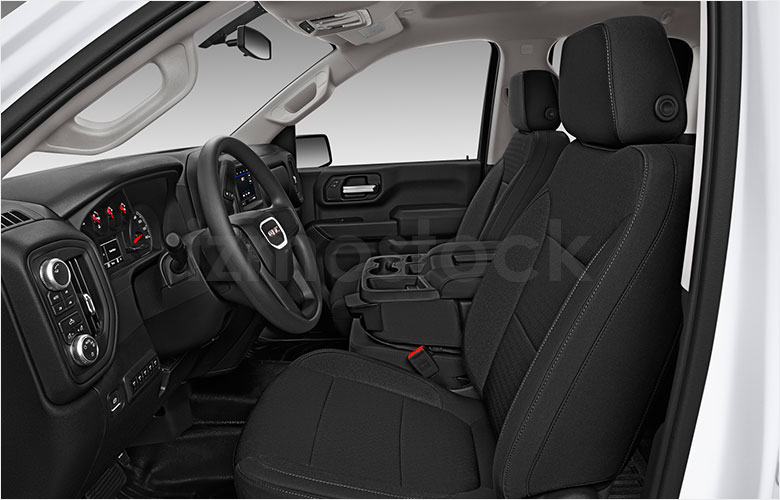 2020 GMC Sierra Stock Photo Gallery: Front Seats
The steering wheel is kept simple with just a few controls on the left for highway cruising. All the seating is cloth, which is easy to maintain and best suited for work place environments. The towing controls get a little attention with chrome dials on the left side of the steering wheel.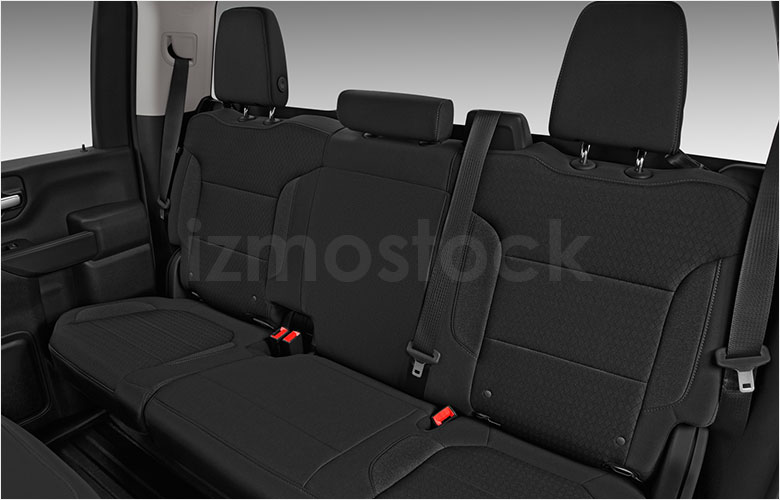 2020 GMC Sierra Stock Photo Gallery: Rear Seats
The rear bench seating also seats three which makes for a total carrying capacity of six. The bench seat can also fold upward to reveal extra interior cargo space.
Heavy duty jobs have met their match with the 2020 GMC Sierra. Tall, broad, and ready to tow and carry everything you can fit in it, the 2020 Sierra doesn't try to look prettier than its competitors. Outfitted with more options to make your job easier, the 2020 Sierra should be the first truck you look at when you need to get a tough job done.
To license 2020 GMC Sierra stock images, Contact Us.