2020 Infiniti QX80 Stock Image Library: Interior Photos, Exterior Imagery, Dashboard, Seats, Wheels, and More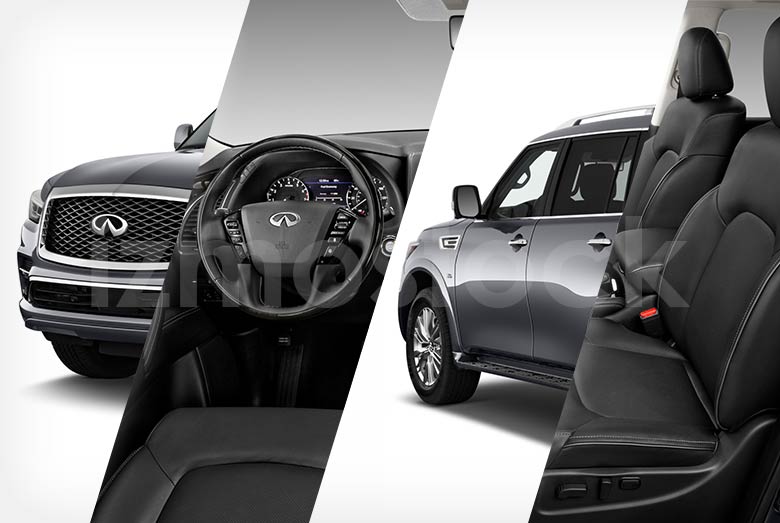 Standing out in the crowd is what the 2020 Infiniti QX80 does best. In a crowded SUV market, the 2020 QX80 shows up with a refined appearance and standard options.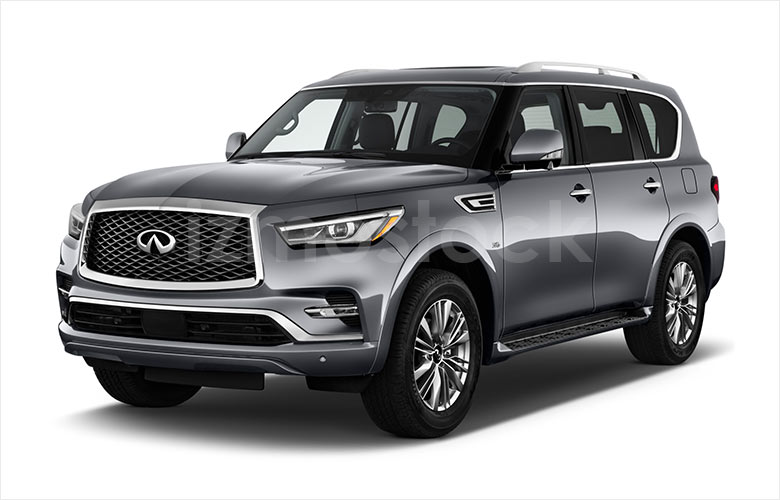 2020 Infiniti QX80 Stock Photos: Angular Front View
A scale patterned grille takes center stage with fully chrome lining. Similarly, the lower grille stands out with more chrome lining that spans the front, connecting the fog light and faux air vents.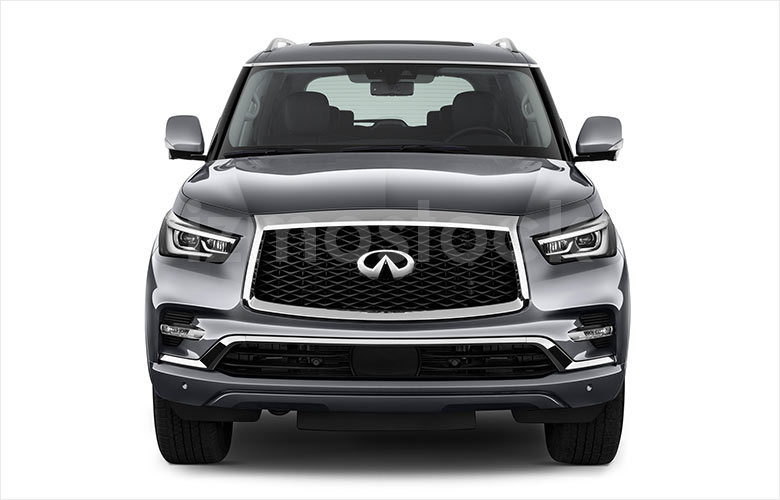 2020 Infiniti QX80 Stock Photos: Front View
The profile of the 2020 QX80 shows off its floating front roof, again accented by more chrome. The addition of a side step lining side doors makes accessibility a breeze for driver and passengers alike.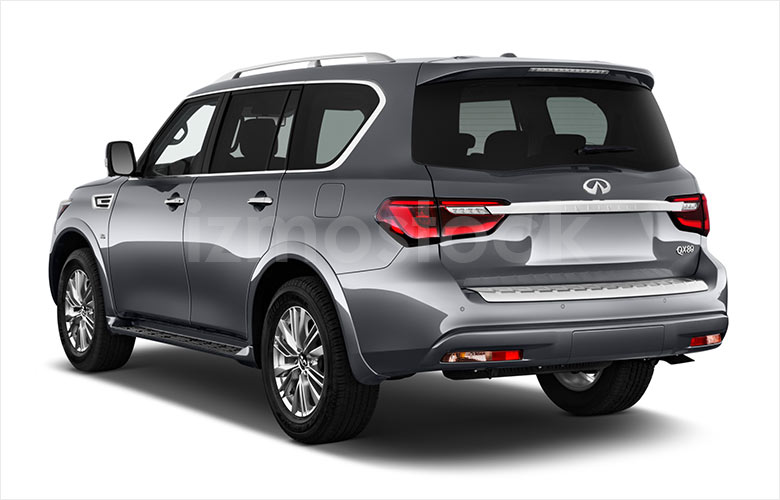 2020 Infiniti QX80 Stock Photos: Angular Rear View
If the 2020 Infiniti QX80 wasn't already showing off enough, there's even more chrome in the rear with a matte bumper guard and banner below the emblem which features the Infiniti name. An ample sized tailgate takes up most of the rear, even splitting the taillights when raised.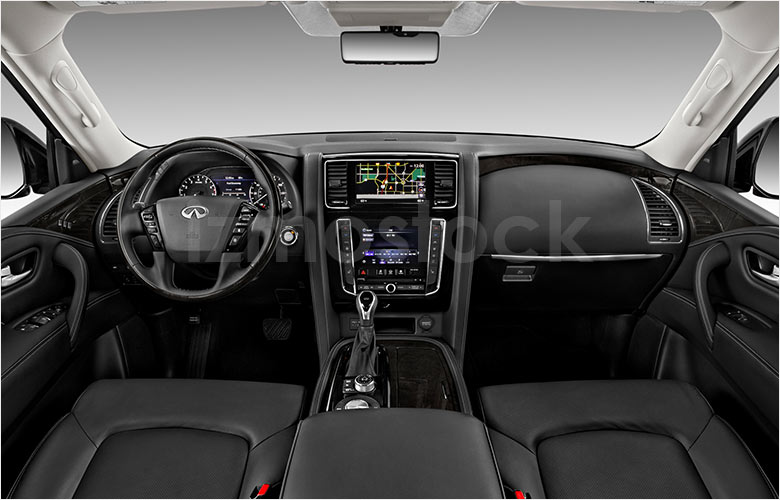 2020 Infiniti QX80 Stock Photos: Interior View
A cavernous interior finds itself occupied with a busy center and gear shift area while leaving the passenger side pleasantly bearable. Fine materials such as leather, matte metal and piano black plastics are found throughout, which is standard for the luxury class.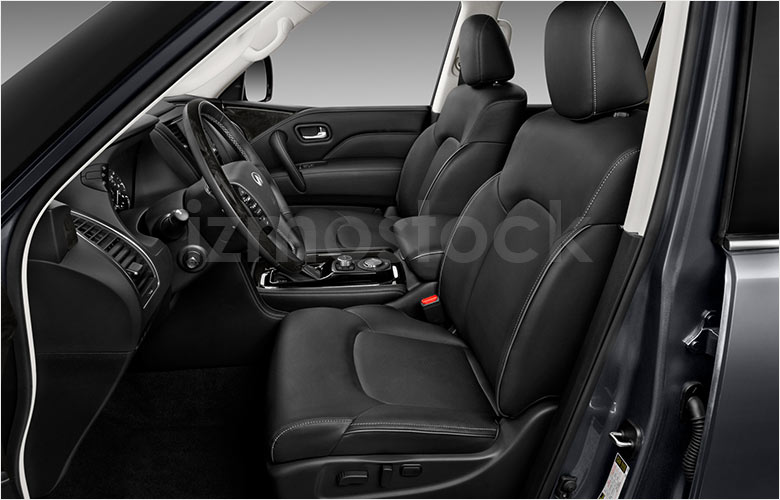 2020 Infiniti QX80 Stock Photos: Front Seats
The leather front seats in the 2020 QX80 are huge and soft, meaning extra comfort for drivers. Offering tons of space up front, the Infiniti motto of living in luxury is brought to life with the QX80.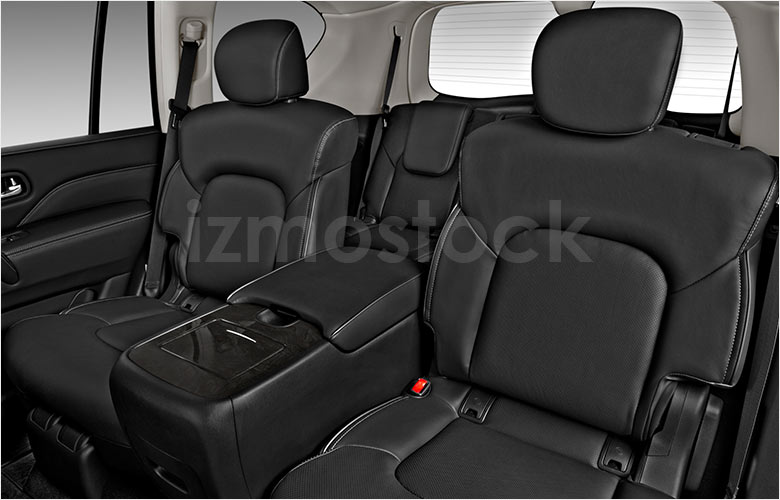 2020 Infiniti QX80 Stock Photos: Angular Rear View
With two rows of rear seating, there are more configurations for splitting space than you'll ever need. The 2020 QX80 should have you nearly covered for every situation without compromising comfort.
Large and in charge, the 2020 Infiniti QX80 offers more than you'll ever need in a luxury SUV. Living true to Infiniti's motto of "luxury you can live in", the 2020 QX80 was designed for you to never want to leave it.
To license 2020 Infiniti QX80 stock pictures, Contact Us.