2020 Toyota Supra Stock Photo Gallery: Interior Photos, Exterior Snaps, Dashboard, Seats, Wheels, and More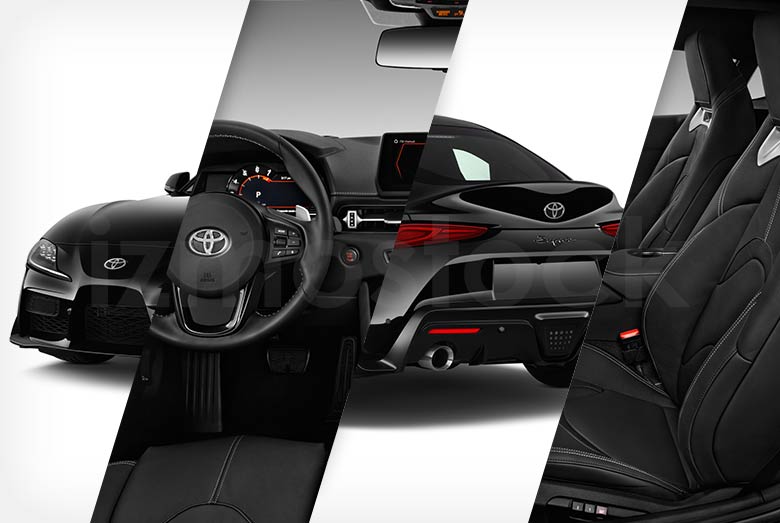 Unlike anything else to come out of Toyota, the 2020 Supra reinvents the classic roadster. Part batmobile and part British Lotus, the 2020 Supra breaks grounds as Toyota's new brooding sport coupe.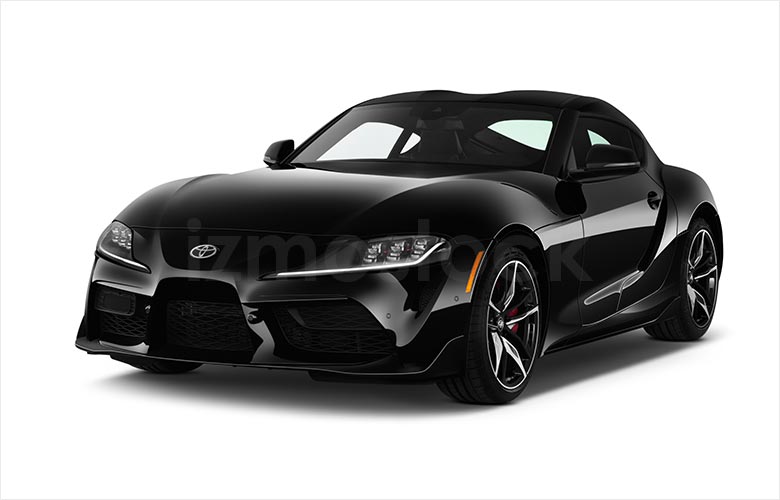 2020 Toyota Supra Stock Images: Angular Front View
Newly designed headlights consist of a long sleek DRL and six smaller rectangular lamps. The front fascia folds and curves around the headlights and downward around a front wheel vent as if poured over and quickly frozen in place.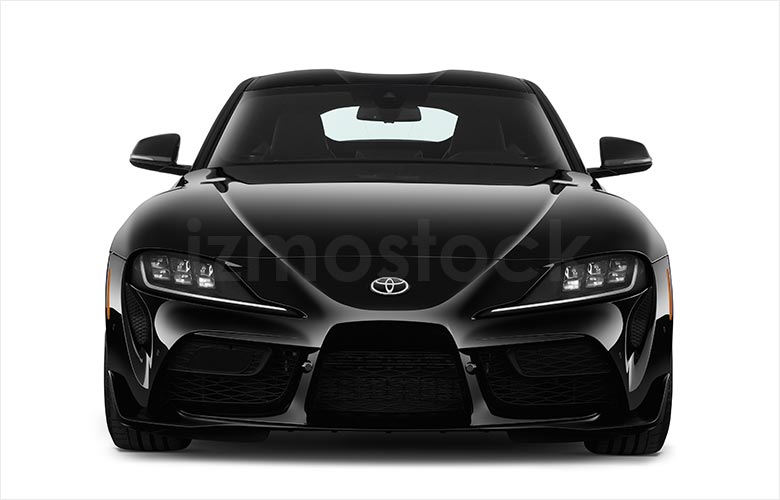 2020 Toyota Supra Stock Images: Front View 
The front grille is split up into five parts, each featuring a diamond pattern. The hood rises around the front wheels and comes to a falling plateau at the Toyota emblem. Low riding valence diffusers fall in front of the front wheels and appear as if flowing along the contorted door length ending in a rear wheel vent and another rear wheel diffuser.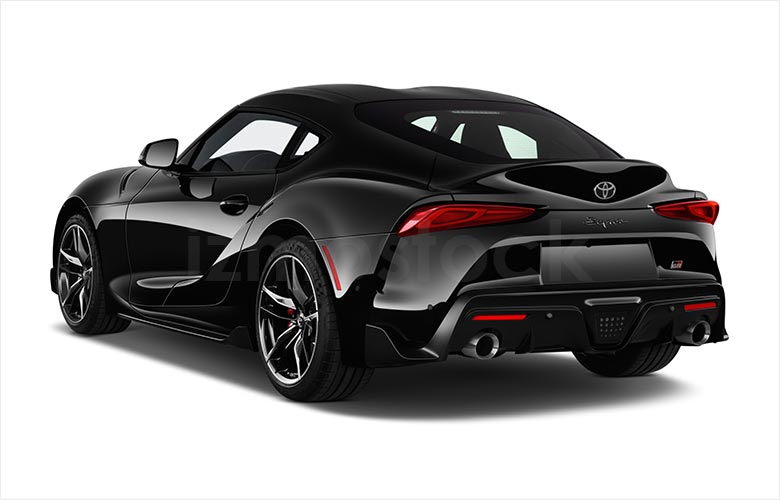 2020 Toyota Supra Stock Images: Angular Rear View
The rear spoiler is like polished stone, thickly molded and rounded below a tapering rear window. The rear fascia folds multiple times down to additional rear diffusers and a lower stylized bumper area with two chrome exhaust ports.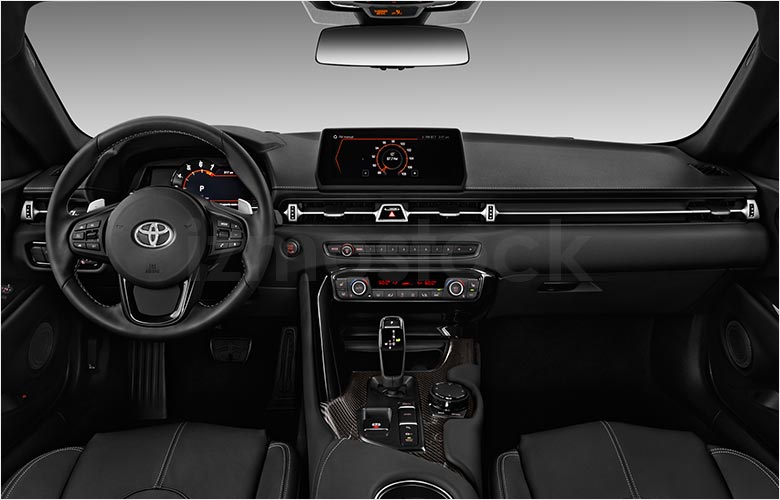 2020 Toyota Supra Stock Images: Interior View 
The interior of the 2020 Supra is heavily borrowed from BMW, who partnered on Toyota's revamp. Fit with leather, carbon fiber paneling, and brushed metallic accents, the 2020 Supra feels unsurprisingly different from any other Toyota before it.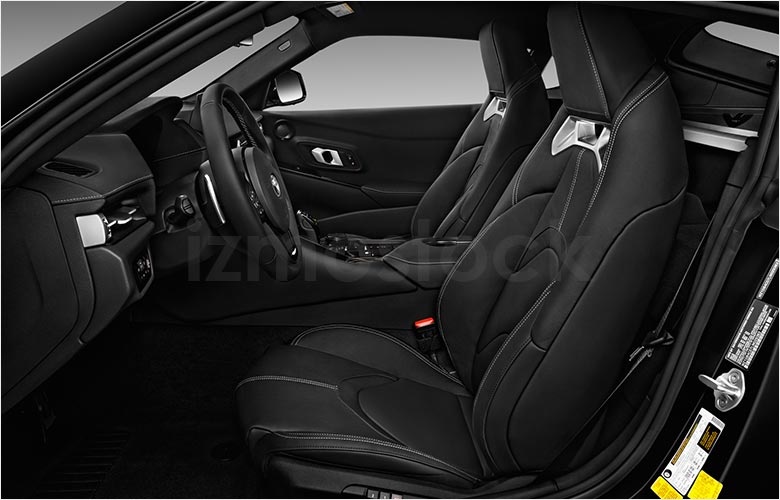 2020 Toyota Supra Stock Images: Front Seats
Sport oriented seats feel a little cramped with the limited coupe spacing. A leather wrapped steering receives additional paddle shifters and fully electronic gauge screen.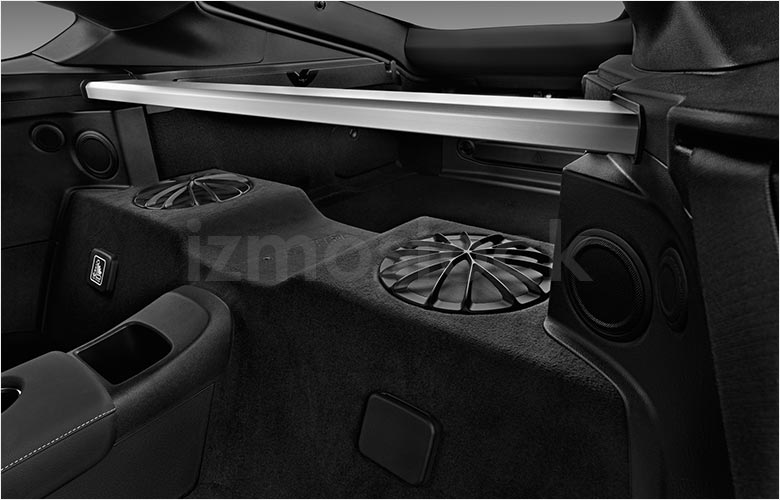 2020 Toyota Supra Stock Images: Rear Space
Rear seating space is taken up by large bass speakers and limited cargo room. A large sports cross bar doubles as a cargo covering with an optional mesh.
Bringing back the legendary Toyota Supra, the 2020 Supra is no stone in the rough. Highly polished with aid from BMW, the 2020 Toyota Supra is the premier sport coupe of the decade.
To license 2020 Toyota Supra Stock Images, Contact Us.