5 Tips on how to spend less time searching for the right car stock photos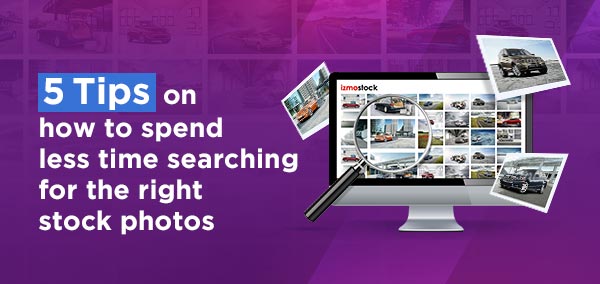 Finding the right car stock images for your auto portal or blog used to be a time-consuming task. Fortunately, image search has improved a lot over the years and now it's easier for businesses to find exactly what they are looking for.
Here are a few tips on how to get the best car stock images for your auto dealer portal as quickly as possible.
1. Use Exact Search
Search for the exact year, make, and model to find the car stock pictures you need.
Most stock photo websites do not offer standard vehicle photo sets for every major make and model, and every model year, unlike izmostock.com.
2. Browse by Vehicle Type
If you are looking for vehicle models belonging to a particular type, then browsing by vehicle type is a good option. Car stock photo websites like izmostock.com offer iconized vehicle type listing right on the home page. For instance, if you are looking for multiple convertibles, just click on the convertible icon and browse the results.
3. Look for Different View Angles
When car portals require multiple pictures of the same model, an easy way to find it is just below the first car stock photograph. Usually different view angles of the same model will be listed there for easy browsing.
4. Search by Brand
Another interesting option is to search by Brand. Stock photo sites like izmostock,com offers listing by brand, making it easier for businesses to buy and download models belonging to specific brands.
5. Search for Art Directed Photography
Businesses can also quickly search for art-directed photography by using the listing option.
For more information, Contact Us!