The Do's and Don'ts of Using Stock Images in your Auto Dealer Blog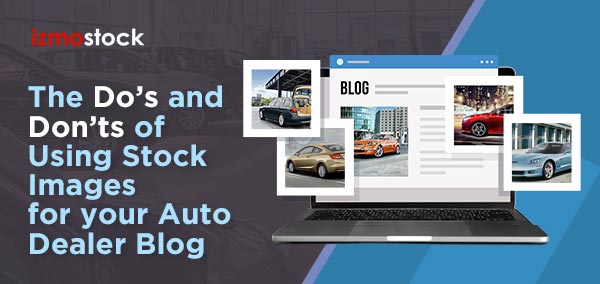 When you start an auto dealer blog, you can't give your readers plain text and still expect the blog to be popular. Include images in blog posts in order to make them more visually appealing.
So, where do you find photos and images for your blog?
Luckily, there are stock photo websites like izmostock.com that offer high-quality vehicle images.
Here are a few dos and don'ts.
Do's
Check for copyright
First things first: Never use a copyrighted car image without documented permission. Make sure that you are using images legally.
Edit the images
If you have the right to modify and customize your stock images, use it to your advantage. Crop the images, collage them, add text and background, or even try cool filters.
You can also try out your hands on basic Photoshop tools.
Choose images that communicate your value proposition
Images offer you a way to connect and engage with your audience. Choose stock photos that reinforce your branding. Try to consistently use images that are relevant to your blog style or content.
Don'ts
Avoid using cheesy photos
One thing to keep in mind when choosing stock photos is to opt out of clichés. Say no to jugglery, false emotions, and images that are cheesy or staged. The reason is very simple, you want your audiences to connect with your images.
Remember, if the stock photos appear artificial, they are less likely to be engaging.
Don't go for irrelevant pictures
If your stock photos don't relate to the point, you're probably missing out on a great opportunity to connect with the audience. This explains why you need to choose photos that are specific and relate well to the points you are planning to convey.
Say No to abstract images
Abstract images tend to do the opposite of what you want when you're using visuals. They usually distract audiences from the overall message. Abstract light bulbs, clouds, and 3D figures are a bit overused in the realm of stock photos. Try to avoid them, except in the background.
For more information, Contact Us!