Using Stock Photography on your Auto Retail Portal: 5 Best Practices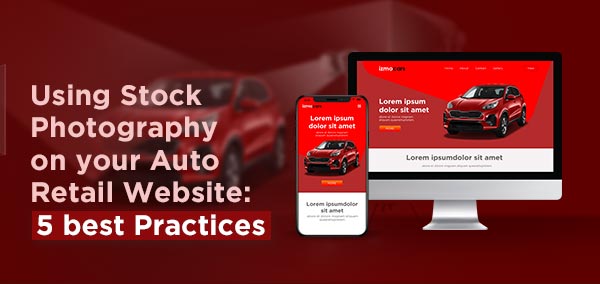 Here are 5 useful tips on how to use car stock photography effectively on your website, portal, or app.
Get started with design
Let the design dictate where to use stock images.
Once your wireframe is ready, you'll know things like:
Image size
Image orientation
Types of images
Visual Marketing Paths
This makes it easier for you to narrow down your choices and select the right stock photography.
Select the right stock photos
Don't stuff your pages without a clear visual content plan. Intelligently using stock photography can help position your vehicles in the best light.
A little editing can go a long way
You can make your stock images stand out even more with a little editing. Here are a few ways to make them look unique and interesting:
Add some text to create fun graphics
Crop your image and use it with a different aspect ratio
Add your logo to images to showcase your work
With these techniques, you can create images that visitors will recognize as uniquely yours.
Use some of your own images
Combine stock photography with your own images to create a unique online identity that no one else can copy.
Stock images are versatile and you can use them in quite a lot of collateral, including model slideshows, promotional banners, blog graphics, social media, web backgrounds, etc.
Improve your SEO
Use your own metatags with stock photography, to improve your SEO and move up in search rankings.
Also script search optimized captions wherever possible.
For more insights, Contact Us!