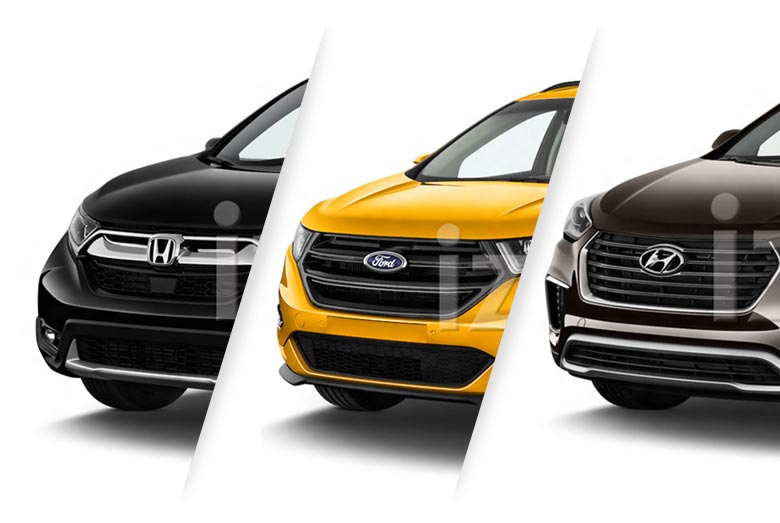 It's no secret that we love our SUVs – their sheer on-road presence, the commanding God's view of the road, their go-anywhere capability. Here is a list of SUVs you should be considering if you're in the market for one below $30k.
Ford Edge
The Ford Edge is definitely a good looker and you can pick one up for just under $29,000. For your money, you will get a 2.0 litre, 4 cylinder engine that puts out 245 bhp. This powertrain delivers sufficient performance in almost all situations and returns mileage figures of 20 mpg (city) and 29 mpg (highway), which are some of the highest in its segment.
The Ford Edge is well equipped, roomy (especially at the back), and boasts of high safety ratings as well.
For More Ford Edge Pictures, Click Here.
Hyundai Santa Fe
From an ugly duckling, the Hyundai Santa Fe has metamorphosed into one very aesthetic SUV.
For your money, Hyundai does not force you to scrimp on features. The standard list itself includes a touchscreen infotainment system with support for Android Auto and Apple CarPlay, automatic climate control, a decent sound system and a 6/7 seater layout.
The ride of this SUV is extremely comfortable as well. Power for the base model comes from a 2.4 litre, 185 bhp motor that is rated to 18/25 mpg (city/highway).
For More Hyundai Santa Fe Pictures, Click Here.
Mazda CX-5
The Mazda CX-5 is one of the best SUVs in its class, and that's no mean feat as it had to overcome some formidable competition. You can pick one up for just over $24,000, which is excellent value for money.
Its 2.5 litre engine produces 187 bhp, which is frugal (24/31 mpg, city/highway), but it isn't big on speed. However, Mazda has worked their magic on the CX-5 and its handling agility is fantastic.
You also get a passenger cabin that has a premium feel and a rather generous options list.
For More Mazda CX-5 Pictures, Click Here.
Nissan Murano
The new 2017 Murano is undeniably the funkiest looking SUV in this list and it barely makes it into this list as it costs just a fraction below the $30,000 mark for its base trim level.
The 2017 Nissan Murano will appeal to buyers due to a combination of factors such as its upmarket and gadget-filled interior and its sumptuously comfortable seating. It's also worth pointing out that although the 2017 Murano is driven by a 3.5 litre, 260 hp, V6 engine, it still manages to return 21/28 mpg (city/highway)!
For More Nissan Murano Pictures, Click Here.
Honda CR-V
The Honda CR-V has always been one of the best SUVs in its class, and the 2017 version is no different. You can buy a new CR-V for under $25,000 and for that, you get an SUV that will get you a much further distance than most of its rivals between fuel pit-stops.
As it is a CR-V, you will also have the luxury of sitting in one of the most spacious SUVs of its class as well. It's 2.4 litre, 184 bhp engine may not be a beast, but it more than makes up for it being incredibly frugal.
The 2017 Honda CR-V is rated at 26/32 mpg (city/highway), and its turbocharged version is even more efficient.
For More Honda CR-V Pictures, Click Here.
Kia Sorento
The 2017 Kia Sorento has been designed seemingly with a substantial American influence. The vehicle looks masculine and its square front profile along with details such as its superb quad fog lamp clusters give it an aggressive appearance.
For a snatch over $25,000, you can have the new Sorento with 2.4 litre, 185 bhp engine. Although it's rather efficient, we would recommend going for either a turbocharged or a larger engine, as the Sorento has some excellent powertrain options.
For More Kia Sorento Pictures, Click Here.